Things You'll Need
Box

Protective filler such as bubble wrap

Packing tape
Mailing liquids, creams or any items that can spill or leak can be a little tricky. That's not to say you can't send your sick grandma some homemade chicken soup. You just have to take a few precautions to make sure the item is as secure as possible as well as sealed inside.
Step 1
Use a bigger box than you need.
Step 2
Secure the tops of the containers. Before packing liquid items, tape the tops closed. Tape the lids both over the top and around the screw-on area.
Step 3
Place containers in sealable plastic bags.
Step 4
Fill the extra space with cushioning such as bubble wrap, packing peanuts, shredded paper and crumpled newspaper. Securely tape every seam on the box.
Step 5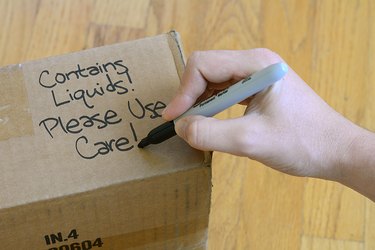 Label the package. When mailing liquids, the U.S. Postal Service requires you label and identify the contents on the outside of your package.
Step 6
Don't drop your package in the mail. Go to the post office and hand it off to a clerk.