Things You'll Need
Red and white checkered tablecloth

Empty Chianti wine bottles

Taper candles

Red linen napkins

Wine corks

Shear red ribbon, one half inch wide

Ice pick

Small white beads

Basic white china

Kitchen lighter

Tall thin clear glass

Breadsticks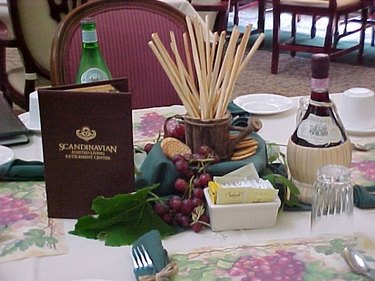 Throwing and elegant Italian dinner party requires more than just great traditional Italian dishes. You will also need some decor that creates a refined and tasteful environment to make the atmosphere truly complete. These simple steps will provide you with great ideas for making your Italian dinner party unforgettable.
Step 1
Cover the table with the traditional red and white checkered tablecloth. This will create the base for a traditional yet elegant Italian setting. Place the basic white china place settings at each spot, flanked with the necessary silverware and glassware for the courses you will be serving.
Step 2
Create traditional wine bottle candle by wedging a taper candle into the opening of an empty Chianti bottle. Make sure that the candle is securely in place. Then use a kitchen lighter to apply a flame to the base of the candle, melting some of the wax down the outside of the bottle. Be extremely careful not to burn yourself or to melt too much wax, which would make the base of the candle too thin and therefore unstable.
Step 3
Make creative napkin holders by poking a hole through the length of a wine cork using the ice pick. Cut a length of sheer ribbon approximately five inches long. Place both ends of the ribbon through the hole in the wine cork, leaving a ribbon loop extending from the top of the wine cork. Then tie off the ends of the ribbon by knotting on a white bead on each end. This will prevent the ribbon from slipping back through the hole in the wine cork as well as prevent the ribbon edges from fraying.
Step 4
Fold each napkin diagonally and roll them loosely. Secure them by placing each napkin through the ribbon loop at the top of the wine corks made in step three. Use the corks like a slip knot to tighten around the napkins and hold them rolled securely. Place each rolled napkin on top of each white china place setting.
Step 5
Place an extra linen napkin in the tall glass, leaving the excess edges of it hanging over the sides. Then fill the glass with breadsticks. Make one or several of these for an elegant and practical touch to the table.