Things You'll Need
Handkerchief, bandanna or 2 by 2 foot cloth

Scissors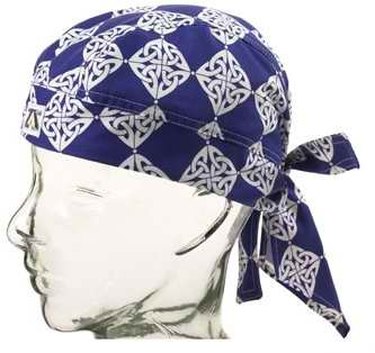 Du-rags or bandannas are a popular form of head wear with youth. Du-rags are multi-purpose--they are fashionable and they keep sweat out of your eyes.
Step 1
Creating a du-rag yourself is one of a few avenues you can take if you ultimately want to wear one. You can use an old t-shirt and cut it down. It is fairly easy to do this as long as you measure it out and cut the fabric into a 2 by 2 foot square.
Step 2
Buying a du-rag or handkerchief online is another option. Many places online exist for this, including www.dustbandit.com and www.bandanashop.com (UK). These sites allow you to buy a pre-existing bandannas and du-rags and have it shipped to your house. You can also opt to create a custom du-rag, including uploading your own images to create a one-of-a-kind du-rag.
Step 3
Going to Michael's or JoAnn Fabrics to buy fabric is a third option. You can go talk to someone at either store and tell them that you need a 2 by 2 foot piece of fabric to make into a du-rag, and they will cut it for you. The downside of this is that you must buy one of their patterns. However, they have things like felt pens and other design tools that allow you to further customize their fabrics if you want to make something unique.
Warning
Don't use a fancy t-shirt if it is your first time creating a du-rag; it's better to practice first on something old.