Things You'll Need
Large pot with basket

2 lbs. crab legs

2 lbs. uncooked shrimp

4 lbs. fresh clams

2 lbs. smoked sausage, cut into 2-inch pieces

6 potatoes

Sweet corn on the cob, halved, frozen or fresh

2 boxes crab boil seasoning

4 whole crabs (optional)

Lobster (optional)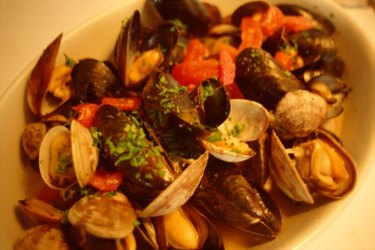 There is nothing like a beach party seafood boil to bring a big group of vacationers together. A seafood boil is like a clambake, but you recreate the traditional on-beach preparation on your stovetop. A beach party seafood boil is very customizable and you can include all kinds of good stuff from crab legs and shrimp to sausage and potatoes. This recipe serves about six to 10 people, but you can increase or decrease the ingredients to suit your party's needs.
Step 1
Fill the pot 3/4 full of water. Turn the burner on high to bring water to a boil.
Step 2
Add the crab boil seasoning and potatoes to the boiling water. Boil the mixture for about 45 minutes, until the potatoes become tender. Add the corn and sausage and boil for 10 minutes.
Step 3
Bring the water to a full boil again and add the clams, crab legs, whole crabs and lobster (if desired) to the pot. Let it boil for 10 minutes. Remove the pot from the heat and add the shrimp. Let the pot stand, covered, for five minutes.
Step 4
Remove the strainer basket from the pot and dump the contents out on a table covered with newspaper or butcher paper. Separate the seafood, potatoes, sausage and vegetables into groups and arrange them on a platter. Separate the tails from the lobster body and the crab claws from the whole crab body before serving. Serve with a choice of melted butter, lemon, hot sauce and cocktail sauce.
Tip
Use the water left over in the seafood boil pot for a clam chowder recipe later on.