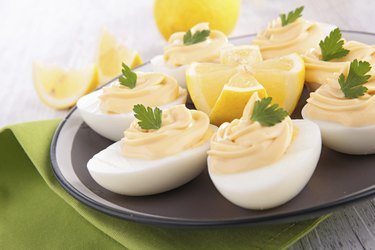 The term "cabaret" has come to mean a setting that combines drinks, food and live entertainment, often of a bawdy bent. Customers typically sit at tables rather than stand as in other nightclubs. The term gained currency around the beginning of the 20th century through the 1920s and 1930s, with the Moulin Rouge, Folies Bergere, the Wintergarten and the Cabaret Voltaire among the many venues across Europe offering this type of entertainment. The food at cabarets varied immensely, so a cabaret-themed party has a lot of leeway in terms of what it serves -- but definitely aim for decadent.
Appetizers
Canapes and composed hors d'oeuvres are appropriate choices for a cabaret party. They may be as elaborate or as simple as you wish. Try stuffed mushrooms, deviled eggs or baked new potatoes filled with creme fraiche and chives. Or serve crostini with thinly sliced prosciutto, serrano, bresaola or smoked salmon on top. Shrimp cocktail was a common party offering in the 1920s when cabarets were in their heyday. Olives, nuts and pretzels encourage guests to drink more. A cut fruit salad also is appropriate for a cabaret-party menu.
Main Courses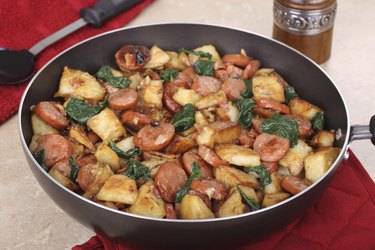 You don't have to serve a main course at a cabaret party but if you do, slices of carved ham, roast beef and roast turkey would have been served in the 1920s and 1930s. If you prefer something more casual, a club sandwich or platters of tea sandwiches are appropriate. If you want to provide a German ambiance to your cabaret party, a plate of sausages and potatoes is a good choice.
Desserts and Sweets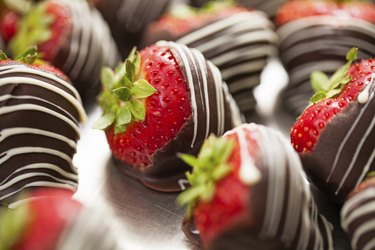 Serve chocolate-dipped strawberries, petits fours and cheesecake bites at your cabaret party for the appropriate decadent finish to the night. Pineapple upside-down cake was the height of sophistication in the 1920s, so serve a slice at your cabaret party for authentic period ambiance. Red-velvet cake also made its debut just before World War II, so serve red-velvet cupcakes.
Drinks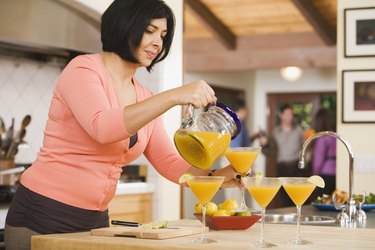 Mixed drinks are apropos for cabaret parties and this would be the perfect occasion to pour some absinthe cocktails. Other vintage cocktails of the 1920s would be a fun touch; try mixing up some sidecars or gin rickeys, Tom Collins and whisky sours. However, champagne, wine, hard cider and even craft beers are suitable for a cabaret party.