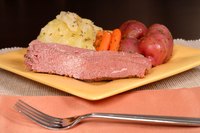 Corned beef is a brisket that has been cured with salt. Its name originates from the salt particles, which were once known as "corns" of salt. Because of its high sodium content, people with high blood pressure should limit corned beef consumption. Historically, corned beef has been part of the cuisine of Great Britain and Ireland. The ubiquitous corned beef and cabbage is an Irish-American St. Patrick's Day custom; in Ireland, bacon and cabbage is the preferred offering. Though traditionally boiled, corned beef can also be baked in the oven or cooked in a crockpot.
Things You'll Need
Large pot with lid, Dutch oven or slow cooker
Fork
5-lb. corned beef
Water
Chopped root vegetables or shredded cabbage (optional)
Spices (optional)
Oven
Preheat oven to 325 degrees Fahrenheit.
Place the corned beef fat-side up in a pot or Dutch oven.
Add 1 inch of water and any spices.
Cover and cook for 3 to 3½ hours. Add any vegetables and cook an additional hour or until beef and vegetables are tender when cut with a fork. Total cooking time will be about 4 to 4½ hours.
Stovetop
Place the corned beef and spices in the pot fat-side up and cover with water.
Bring the water to a boil. Reduce heat and simmer, covered, for 4½ hours, adding more water if necessary.
Add root vegetables or cabbage, if desired, and simmer an additional half-hour or until vegetables are tender and corned beef shreds apart easily when pierced with a fork.
Slow Cooker
Place any root vegetables at the bottom of the crockpot.
Insert corned beef into the crockpot, cutting in half if necessary. Sprinkle with spices, if desired. Fill with water.
Cover and cook on low for 7 hours. If you are using cabbage, add it now. Continue cooking the beef an additional 3 to 5 hours – about 10 to 12 hours total – or until it is tender when pierced with a fork.