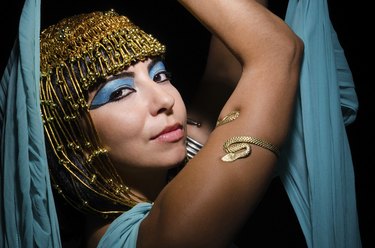 If you want to go glamorous for Halloween, channeling the iconic Egyptian Queen Cleopatra is a great option. Her bold, geometric eye makeup and sultry stare will awaken your inner queen. This makeup is easy to imitate for a Halloween costume and will make you feel like royalty all night long.
Flawless Face
Start by applying a foundation that matches your skin type and tone. The eyes are the focal point of Cleopatra's makeup -- so don't worry about doing anything special for your base. Conceal any blemishes with your favorite concealer, then apply a peachy-pink blush to the top of your cheekbones.
Bold Brows
Take a brow pencil two shades darker than your eyebrows. For lighter eyebrows, use a dark brown and for darker eyebrows, use black. The idea is to make the eyebrows dramatic. Follow the natural shape of your eyebrow with the pencil -- keeping the angles sharp. For more drama, take the eyebrow pencil a little higher on the skin above your eyebrow's arch. Extend the tail of your eyebrows so they end parallel with the corners of your eyes.
Bright Eyes
In her iconic performance as Cleopatra, Elizabeth Taylor rocked blue eye shadow and striking black eyeliner. To recreate this look, use a bright blue shadow. If you want a more ethereal look, use one with shimmer. Apply the shadow on your lid, extending it to the upper brow bone. Use your lower lash line as a guide and imagine your lash line extends all the way to the tail of your eyebrow. The entire space between your eyebrow and upper lash line should be covered with blue eye shadow. Brush a gold eye shadow along the upper brow bone over the blue shadow.
Dramatic Lines
Line your upper and lower lash lines with black eyeliner. Run a flat blending brush over the lines to blend them. Draw a line that connects the end of your eyebrow to end of your upper lash line. Thicken the eyeliner as needed to create Cleopatra's exaggerated cat-eye. For additional drama, use black eyeliner to exaggerate the inner corners of your eyes to a small point.
The Final Touch
To finish the eyes, apply black mascara to your eyelashes. For more drama, take a pair of false eyelashes and apply over your finished eyeliner, then apply mascara. Apply a pink-nude lipstick to your pout for a subtle smile. Add a black wig, a gold headpiece and some gold bangles and your royal Halloween costume is complete.