Homemade berry pies are one of the joys of summer. Especially blueberry pie! There is never a good excuse to use one of those canned, mass-produced blueberry pie fillings, because making it at home could not possibly be easier. It comes together in about 15 minutes! Not only is this easy and fast, but it tastes absolutely decadent. There's no need to limit it to pie, either. In addition to using this in pies, try adding this blueberry pie filling on top of vanilla ice cream, or serving it over a slice of pound cake with a dollop of whipped cream.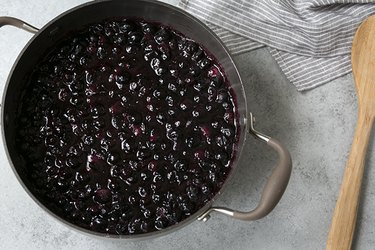 Things You'll Need
5 ½ cups fresh blueberries, divided

1 small lemon

¾ to 1 cup granulated sugar


2 ½ tablespoons cornstarch


¼ teaspoon kosher salt


3 tablespoons water
Step 1: Gather your Ingredients
The fresher the blueberries, the better. Several factors will impact their natural sweetness (location, season, etc), which is why there's a range of sugar listed in the ingredients. Taste the berries. If they're very sweet, 3/4 cup sugar should be plenty (even 1/2 or 2/3 cup might be sufficient). Also keep in mind that you can start with less sugar and add more to taste at the end. It's always easier to add than to subtract!
Step 2: Clean and Pick Through the Blueberries
Wash the blueberries under cold water. Remove any old looking berries and stems.
Step 3: Zest and Juice the Lemon
Zest the lemon, reserving 1 teaspoon finely grated zest for the filling. Slice the lemon in half and reserve 1 1/2 tablespoons of the juice.
Step 4: Cook the Pie Filling
Place 3 cups of the blueberries into a Dutch oven or large saucepan, along with the reserved lemon zest. Add the sugar, cornstarch, salt and water. Place over medium heat and stir until smooth. Bring to a boil and cook for 5 to 10 minutes, or until liquid has reduced slightly and thickened. Remove from heat, add the remaining 2 1/2 cups berries and lemon juice.
Tip
For pie: Cool the filling to room temperature. Pour into a pre-baked pie shell, place in the refrigerator, and chill before serving.