Things You'll Need
Valance

L brackets

5/8 inch Phillips head screws

Screwdriver

Level

Measuring tape

Pencil

Stud finder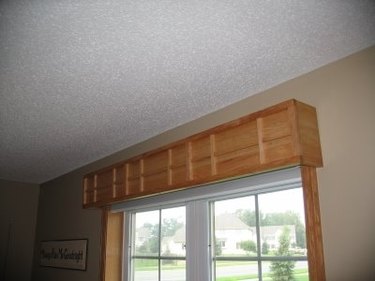 A valance is a great way to cover the mechanism of vertical blinds while adding a personal touch. This is an fairly easy project most any homeowner can complete, and it will add a bit of flair to any window in the home, even a patio door.
Step 1
Mark the area where the valance will be attached to the wall above the vertical blinds. Locate the studs with the stud finder and mark their location with the pencil.
Step 2
Measure from the top of the window or door frame to the height needed for the L brackets. This is determined by the height of the valance. Measure the inside front of the valance and calculate how much of the vertical blind you'll cover with the valance.
Step 3
Install the L brackets according to your measurements.
Step 4
Some valances will require more support than others, so make certain that enough brackets are installed on the studs that will give the valance the support it needs.
Step 5
After the L brackets are installed, set the valance on them and press it back to the wall. Secure temporarily with a few of the 5/8 inch screws.
Step 6
Verify that the valance is straight by placing the level on the top of the valance. Adjust if needed. Once the valance is level, secure it to the L brackets with the 5/8 inch screws.
Tip
Be certain to drive the screws all the way in.
Warning
Do not over-tighten any of the screws as this could cause the valance to fall.