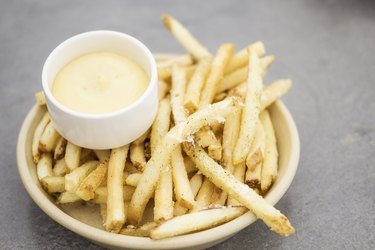 Start to Finish: 10 minutes, plus 30 minutes resting time Servings: 8 servings Difficulty Level: Intermediate
Aioli may sound like a fancy condiment, but it's really just a dressed-up term for homemade garlic mayonnaise. The base is made of garlic cloves, egg yolks, oil and lemon juice, and timing is key to a great-tasting mixture. Start with a basic recipe, adapted from Aioli Greats: Delicious Aioli Recipes, The Top 47 Aioli Recipes by Jo Franks, then tailor it to complement any dish. A squirt or two of hot sauce adds heat, while fresh herbs like tarragon contribute earthiness.
Ingredients
5 cloves garlic
2 egg yolks
1/2 cup extra virgin olive oil
1/2 cup vegetable oil
2 teaspoons lemon juice
Salt, to taste
Instructions
Combine the garlic cloves and egg yolks in a food processor and puree until combined, around 10 seconds.
Slowly drizzle the olive and vegetable oils in a thin stream into the running food processor.
Stop the food processor once the oil has been thoroughly combined with the egg mixture. Add the lemon juice and salt, then pulse until incorporated.
Pour the aioli into a container with a lid. Let it sit in the refrigerator for at least 30 minutes before using to allow the flavors to meld.
Store aioli in the refrigerator for up to three days.
Variations and Substitutions
If you prefer the fruity, assertive flavor of olive oil, use a full cup and omit the vegetable oil. Or to reduce the flavor of the olive oil, use 1/4 cup and increase the amount of vegetable oil to 3/4 cup.
Substitute vegetable oil for another neutral-flavored oil, such as grapeseed or flax oil.
You can swap out the lemon juice for white vinegar, or use equivalent amounts of each.
Use roasted garlic cloves instead of raw to introduce a sweeter, more subtle garlic flavor.
Make It Your Own
Add a squirt or two of Sriracha or another hot sauce to add heat to create a spicy dipping sauce for French fries or deep-fried mushrooms.
A spoonful of mustard contributes earthy sweet and sour notes, perfect for spreading on sandwiches.
Finely chopped fresh herbs freshen up and add earthiness to aioli; chives, dill and tarragon are great options.