Things You'll Need
Individual portioned bags of corn chips

Frying pan

Ground beef

Taco seasoning packet

Onion

Salsa

Beans

Tomato

Lettuce

Cheese

Jalapenos

Sour cream

Knife

Scissors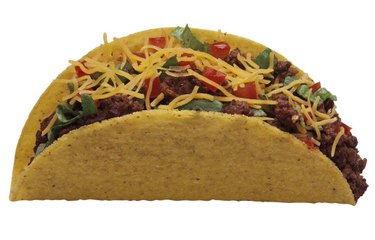 Whether you are cooking for a tailgate party or a quick meal on the go, a walking taco is a hearty dish that is both entertaining and efficient. Walking tacos repackage the ingredients of a regular taco inside a bag of corn chips. Instead of taking small bites of a taco encased in a tortilla and risking spilling food everywhere, you eat a walking taco with a fork or a spoon, which makes it more convenient if you are not sitting at a table.
Step 1
Cook the ground beef in a large frying pan. As it begins to brown, mix in the packet of taco seasoning.
Step 2
Stir in chopped onion, salsa or beans, if desired, once the meat is cooked through. Remove the pan from heat.
Step 3
Prepare all of the ingredients that you will be putting on top of your walking taco. For example, dice tomatoes, shred lettuce and cut slices of jalapeno.
Step 4
Crush a bag of corn chips so that the chips are in small pieces. Cut off the top half of the bag.
Step 5
Assemble your walking taco. Scoop in the ground beef mixture and add whatever extra toppings you like. Use a fork or a spoon to mix it all together and eat your portable taco.