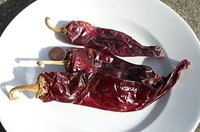 Some people like them hot! Some don't! For those who do, here is a delicious "medium hot" flavored stuffed pepper dish, that will add a kick to any meal time. This recipe will show you how to prepare and stuff the peppers, to create a unique tantalizing meal of their own.
Things You'll Need
8 washed and steamed Anaheim peppers
1 pound of ground beef
1 medium size chopped onion
3/4 cups of steamed rice
salt
I cup of (12 ounce) can of tomatoe sauce
Worcestershire
casserole dish
cooking foil wrap
fry pan
large boiling pot or steamer
medium sauce pan or rice cooker
Wash and steam 8 Anaheim peppers for approximately 5 minutes. Make a slight incision in the peppers. Open up the peppers and clean out any seeds and fillers, leaving only the outer shell of the pepper remaining. You can use a steamer or a large boiling pot. The peppers should remain slightly crisp when done.
In a frying pan, brown the ground beef and chopped onion until fully cooked. Remove from heat.
In separate sauce pan or rice cooker. Cook rice and add salt to taste.
Combine cooked rice and brown beef and mix thoroughly. Add approximately 3-4 can of tomato sauce to beef and rice mixture. Stir until thoroughly mixed. Set remaining tomato sauce aside for later use. Add additional salt (if desired) and a couple of shakes of Worcestershire to taste. Blend thoroughly until heated through.
Stuff the pepper with meat and rice mixture. Pour remain tomato sauce over peppers. If there is any extra stuffing left over, use to fill the casserole dish, by placing the stuffing around the peppers to secure the peppers.
Cover the peppers and mixture with cooking foil and bake for 30 minutes at 350 degrees. If desired, remove the foil approximately 10 minutes before meal is done. This will create a slight crispness to the top.