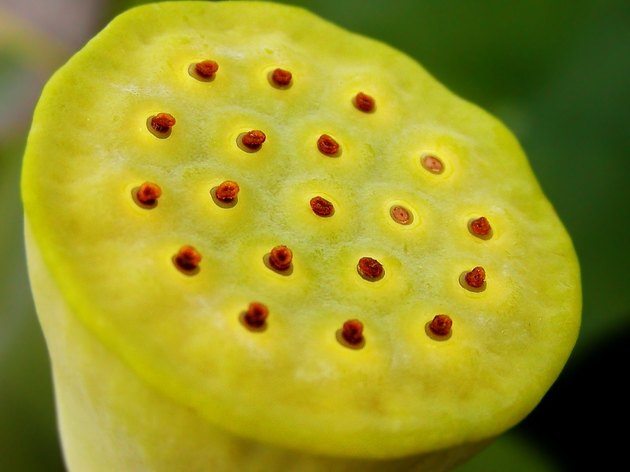 The mention of lotus pods conjures up images of deep brown pods that rattle and roll as their seeds swirl around in open holes. But lotus pods don't start out brown. It is only after proper drying that these seed pods make a striking statement in any dried flower arrangement. Drying them isn't that different from drying any flower, but you must be careful to pick them at the right time.
Step 1
Pick lotus pods while they are still green and have reached their full growth. If the seeds have begun to pull away from the sides of the seed pockets it is time to pick them for drying. If you wait too long, the stem will bend downward and you will not be able to create a nice straight stem for your dried pods.
Step 2
Remove any excess leaves and bundle several seed pods together. Secure the stem with a rubber band. You can use ordinary garden twine but elastic bands provide a tighter grip and hold the stem securely even if it shrinks while drying.
Step 3
Hang the lotus pods upside-down in a cool dry area with good ventilation. Be sure that the pod can hang freely without resting against a wall. As the pod dries, it will turn brown and stiff.
Step 4
Check pods weekly to see if they have dried completely. The stem should be stiff and the seed pod should be hard. If there is still some flexibility in either the stem or the pod, leave them for another week.
Step 5
Remove the elastic band and use the lotus seed pods in dried flower arrangement or in nature crafts.