Brie is a soft white spreadable cheese that is from France and is famous around the world. Brie is actually a dessert cheese and with this recipe the sweet additions will surely keep everyone coming back for more. Baked Brie looks fancy, but with this recipe you will learn how to make Baked Brie the fast and easy way.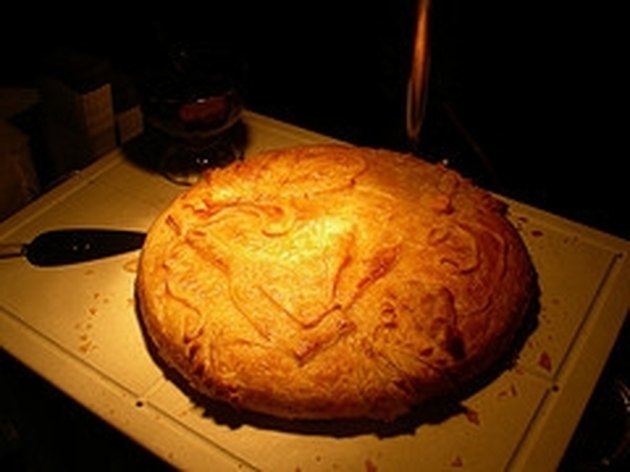 Things You'll Need
1 tube of refrigerated crescent dinner rolls

1 round or wedge of Brie cheese

Jam (optional)

Brown sugar (optional)

1/4 cup of maple syrup (optional: honey or 1 to 2 tbsp. of amaretto)

Greased cookie sheet
Step 1
Preheat oven to 350 degrees F.
Step 2
On a lightly oiled cookie sheet, lay out the crescent rolls flat.
Step 3
Put the Brie round or wedge on top.
Step 4
Spread jam or fruit on the Brie. Fold the crescent rolls over the top of the Brie.
Step 5
Drizzle maple syrup or sweetness of choice over the rolls. Sprinkle a handful of brown sugar on top.
Step 6
Bake at 350 F for 25 minutes or until golden brown. Let cool for 10 minutes before serving. Enjoy with crackers or apples.
Tip
Experiment with nuts, fruits, jams, or dried fruits of your choice. Freeze the Brie before working with it. After you put on the fruit and wrap it with pastry, wrap it in saran wrap and put in freezer bag. Freeze for one hour or overnight so it will not be gooey.