Things You'll Need
2 medium onions, sliced

4 cloves garlic

2 1/2 lb. boneless pork loin roast

1 small package baby carrots

1 potato, cubed

3/4 cup hot water

2 tbs. white sugar

1/4 cup red wine vinegar

1/4 cup soy sauce

2 tbs. ketchup

1 tsp. black pepper

1 tsp. salt

1/2 tsp. garlic powder

1/2 tsp. chicken base

3 tbs. Merlot wine

1 dash hot pepper sauce (optional)

2 tbs. corn starch and 1 tbs. water, mixed

Slow cooker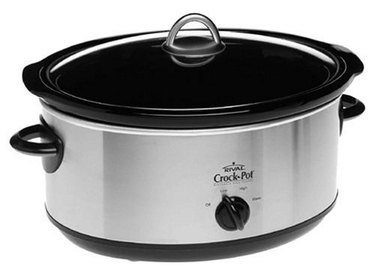 A pork tri-tip, also called a "cushion" by some, can make for a wonderfully delicious meal; it's versatile and extremely easy to cook. As easy as a pork tri-tip is cook, it is a satisfying meal that's popular with everyone in the family–and looks like it took you all day. Here's how to make a wonderful slow-cooked pork tri-tip. This recipe calls for slow cooking the roast on low for eight hours; this will provide the best results. If you are in a rush, you can experiment with it on high, cooking for four hours on high, but we recommend the eight-hour on low cooking time.
Step 1
Arrange onion slices and garlic cloves evenly over the bottom of the slow cooker, and then place the roast on top of the onion and garlic.
Step 2
Add baby carrots and cubed potatoes to the slow cooker (you can arrange around the roast or on top).
Step 3
Mix the water, sugar, vinegar, soy sauce, ketchup, black pepper, salt, garlic powder, chicken base, Merlot and, if desired, the hot sauce in a bowl. Pour over roast.
Step 4
Cover, and set to cook on low for 8 hours.
Step 5
At the 7-hour mark, stir in the cornstarch and water mixture to thicken the sauce.
Step 7
Serve over egg noodles, rice (white or brown) or stuffing.