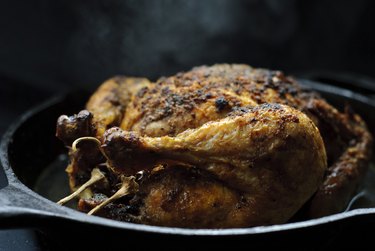 Start to Finish: 25 minutes Servings: 4 Difficulty Level: Beginner
As much as a hot, deliciously herbed rotisserie chicken begs to be savored immediately, you and your family may not quite be able to finish it in one go. If you can bring yourself to save about 2 cups worth of the meat, either white or dark, you can get a whole 'nuther meal -- hearty chicken soup -- out of it. You may even find it worth getting an extra chicken strictly to make a large batch of the easiest and most savory leftover soups around.
Recipe inspired by "Rotisserie Chickens to the Rescue!" by Carla Fitzgerald Williams.
Ingredients
Homemade or commercial chicken stock, 2 cups
Water, up to 2 cups
1 tablespoon lemon juice, fresh squeezed
Bay leaf
1 clove garlic, smashed and peeled
1 cup carrots, peeled and cut into 1/2-inch disks
1 stalk celery, washed and cut into 1/2-inch slices
1 1/2 cups cooked rice
2 cups skinless rotisserie or leftover chicken, cut or pulled into small pieces
1 teaspoon seasoned salt
4 tablespoons chopped parsley
Putting It Together
Pour the chicken broth into a large saucepan, and add the water, lemon juice, bay leaf and garlic. Heat this base over medium heat while you prepare the carrots and celery.
Stir the sliced carrots and celery, the rice, the chicken and the seasoned salt into the saucepan. If you are trying to estimate how much chicken to save from your original whole bird, 2 cups may equal a quarter chicken, such as the leg or the breast. Cover the pan and simmer for 10 minutes. Taste the soup and add more seasoned salt if needed. Pour the soup into bowls and sprinkle parsley on top.
Improv Time
You can also make chicken soup from roast chicken leftovers, if you don't have a rotisserie chicken. And, instead of cooked rice, add raw rice and cook it in the broth for around 20 minutes.
If you want to steer away from chicken with rice soup and toward chicken noodle soup -- just the thing if you are feeling under the weather -- replace the rice with vermicelli, and add the chicken at the end, just long enough to heat it through. For a thicker, more stew-like result, add less water at the beginning.
Seasonings, Asian and Peruvian Variations
Your seasoning options are also wide ranging, from sea salt and freshly ground pepper, to lemon salt and pepper, or even seasoning blends designed for chicken and Cornish hens that include tarragon, chives and shallots.
For a more Asian take, swap out the celery and carrots for minced fresh ginger root, sliced scallions, sliced mushrooms and snow peas or bean sprouts.
Peruvian-style rotisserie chicken works especially well with this soup, and the Peruvian provider can often provide white rice as a side that can go right into the soup.