This French toast casserole is a decadent make-ahead classic… and delicious spin on the much-loved French toast breakfast. Leave it plain, as the recipe dictates, or throw in fresh fruit, chocolate, nuts and other additions to give it a complex layer of dimension. Either way – it is delicious!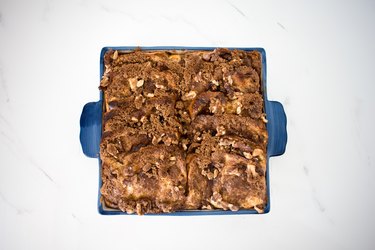 Things You'll Need
1/3 cup unsalted butter,

3/4 cup + 1/2 cup light brown sugar

6 eggs

1 cup milk

1 cup heavy cream

1 teaspoon vanilla extract

1 teaspoon brandy, Kahlua or rum (optional)

1 teaspoon cinnamon

1 teaspoon nutmeg

1 loaf of bread, such as brioche, challah, sourdough, white or raisin bread - cut into 1/2 inch / 1.5 centimeter slices

1/2 cup walnuts, or other additions of choice
Step 1: Prepare Your Ingredients
Begin by preparing your ingredients and buttering a 9 x 13 inch / 22 x 33 centimeter baking dish. Set the dish aside.
Step 2: Melt the Butter and Sugar
In a medium sized saucepan, melt together the butter and 3/4 of the brown sugar until dissolved over medium heat. Spread the mixture into the bottom of the prepared baking dish.
Step 3: Whisk the Liquid Ingredients
In a large bowl, whisk together the eggs, milk, cream, vanilla and liqueur, if using. Set aside.
Step 4: Make the Sugared Topping
In a small bowl, combine the remaining brown sugar, cinnamon and nutmeg. Set aside.
Step 5: Layer in the Bread
In your prepared baking dish, line a layer of your desired French toast bread.
Step 6: Add the Liquid Ingredients
Pour over the egg mixture.
Step 7: Add in Extras (If Using)
Sprinkle with the nuts followed by the brown sugar mixture then let stand to absorb for 1 hour or cover with plastic wrap and refrigerate overnight.
Step 8: Bake
When you are ready to bake, uncover and preheat the oven to 350 Fahrenheit / 170 Celsius and bake until puffed and golden, roughly 35 to 45 minutes.
Step 9: Let Cool
Let the casserole cool for 15 minutes before eating. It is best served warm and can be frozen in an air-tight container for up to a month.