Eating healthy doesn't have to be complicated. In fact, most of the time it's the simplest of meals that can be the best for your body. Salmon is one of those dishes that I try to incorporate into my weekly meal planning because of how amazing it is for you. On top of it's health benefits, salmon happens to be easy to prepare also. There are a variety of ways to cook salmon, but one of my favorite ways is to make it on the stove. You will love this method of cooking and will end up with the perfect piece of fish every time!
Things You'll Need
3 pieces of salmon with skin on (5 to 6 ounces a piece; I used wild sockeye salmon)

3 lemon wedges

1 tablespoon olive oil


1 teaspoon kosher salt


Iron skillet (or another heavy bottomed skillet)
Step 1: Prep the Salmon
Remove the pin bones from the fish and liberally season both sides of the salmon with salt and pepper.
Tip
Substitute any of your favorite seasonings using the same cooking method.
Step 2: Heat the Skillet
Heat an iron skillet over medium high heat and add olive oil to the pan.
Step 3: Cook the Salmon
Add salmon, skin side down, to the pan and cook for 6 minutes. Flip the salmon carefully and cook for another 5 to 6 minutes on the second side. Carefully remove the fish from the skillet.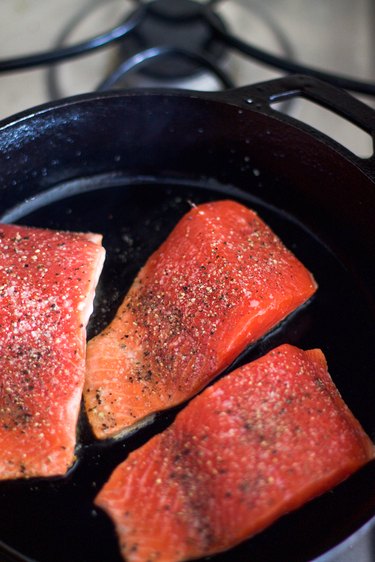 Tip
You can remove the skin after cooking if you choose.
Step 4: Finish with Fresh Lemon
After the salmon is cooked through, squeeze fresh lemon over top before serving.
This salmon is simple, but I promise it is so delicious! You are going to love using this no-fail cooking method any night of the week.
We Love This Fish! Other Ways to Cook Salmon