Things You'll Need
Location

Mock stage

Sound system or boom box

Dance tunes

Microphone or megaphone

Spotlight or flashlights (optional)

Flier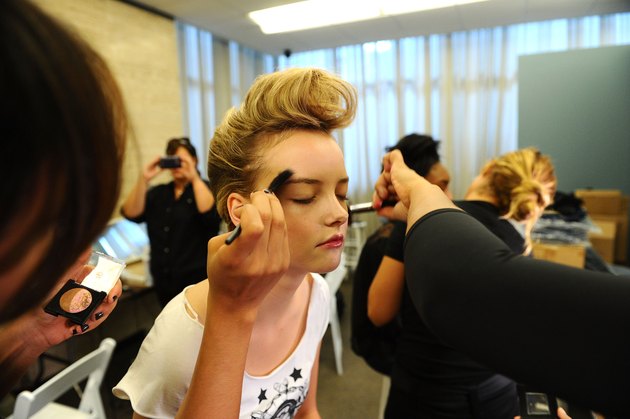 A fashion show can be a welcome addition to any event or a fabulous occasion on its own. Whether you want to add it to the schedule of a block party, talent show, youth retreat or as the main event, it's sure to give the teens involved a boost of self-esteem and a way to show off their latest fashions.
Step 1
Pick a location with plenty of room. Most often when you rent out a location, seating options will be available. Ask before reserving your space. If you choose to have your event outdoors, find a location where you can use the parking lot. Rent foldup chairs or set up blankets and sleeping bags where viewers can cheer their favorite fashion show entrant.
Step 2
Set the stage. The stage is the central element of any fashion show; rent a collapsible stage at a local rental company, or use a roll of red or white fabric. Use two-by-fours to hold into place, whether it's indoors or outdoors. Or set seating up in two single files, parallel to each other, and create an invisible runway.
Step 3
Pick the tunes. Any fashion show will be a hit if you have the right music. Choose catchy tunes, dance mixes, something that has a beat. Rent a sound system or borrow a stereo or boom box to play the edgy rhythms. Use a microphone or megaphone to introduce your fashion show participants.
Step 4
Consider renting a spotlight or gather a few flashlights to shine on your entrants. Many times, if you're renting multiple pieces of equipment, rental companies will offer a discount on items.
Step 5
Create a publicity flier. Consider charging a small fee at the door to help the teens in the show or a local teen cause, or consider selling refreshments. Advertise the details on your flier, and make sure to include the who, what, when, where and why.
Tip
Spread the word at local teen hangouts or teen groups to find models, helpers and an audience. Most often if one teen says yes, her friends will also get involved. If you want to offer prizes for fashion show participants, or as door prizes for those attending, consider getting local businesses involved.
Warning
Include parents of the teens involved in the show. Provide permission forms for entrants and let them know they must have them signed before they can enter. This way you know the teens have permission to walk the runway, and it also gives parents the opportunity to get involved.