Things You'll Need
Barbecue grill

Propane tank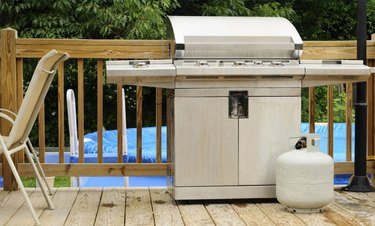 How to Connect a Propane Tank to Your Barbecue Grill. Cook outside on your barbecue grill to make tasty hamburgers, steaks and hot dogs. The barbecue grill works by using propane gas fuel. Connect your propane tank to your barbecue grill so you can get started grilling. The installation process is easy to do and no tools are required.
Step 1
Set up your barbecue grill on a hard, level surface such as a concrete patio.
Step 2
Take your propane tank and place it next to the barbecue grill. Make sure it is securely in place. The propane tank needs to be directly next to the grill because the hose connection is short.
Step 3
Close the valve on the propane tank. It should come with the valve closed but check this before beginning the installation process.
Step 4
Look at your barbecue grill and view the hose. This will have a connection on the end of it that will fit on the propane tank.
Step 5
Connect the hose to the propane tank. The connection will just insert into the valve on the propane tank. Screw the connection to a snug fit.
Step 6
Screw the connection with your hand. Do not use pliers as this may strip the connection. Hand tight is snug enough.
Step 7
Open the valve on the propane tank to complete installation. One full turn is enough to supply the gas to the barbecue grill.
Warning
Turn off the propane tank after grilling. Take care in storing your propane tank when it is not in use. Leave your propane tank outside in a covered area like your patio or carport.