Things You'll Need
Shader

Small ball writer

Tracing paper

Pencil

Stencils

Sander

Masking tape

Wood

Polyurethane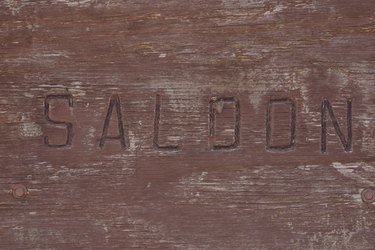 Wood burning is an easy-to-learn craft and can be used on a variety of projects such as wooden signs, wooden plaques, street address signs, wooden mail boxes and trinket boxes. You can also use wood burning tools to burn names into wooden jewelry. The tools are fairly inexpensive and come in a variety of sizes. The different tools can also be used on objects besides wood such as gourds.
Step 1
Prepare the surface of the wood you plan to burn by sanding the entire surface and smoothing it with a soft cloth. Tape a piece of tracing paper to the surface of the wood with masking tape and place your stencil over the tracing paper. Use a pencil to draw each stenciled letter onto the tracing paper, which will transfer the letters onto the wood.
Step 2
Hold the tool of your choice lightly by the handle and, without exerting a lot of pressure, move it quickly across the wood. The more pressure you use, the darker the shade will be. The small-ball writer is very versatile and easy to hold, so it makes a good choice if this is your first time burning wood.
Step 3
Hold your wood-burning tool with your thumb and forefinger at the shaft if you want to create curving lines. The blade of the tool creates the detailing such as depth and shaded letters. To make light shadows and fine lines, move the tool quickly across the wood.
Step 4
Use a clean, soft cloth to remove the deposits of ash that will collect on the wood as you work. You can also use a ruler to keep all your letters straight.
Step 5
Varnish the surface of the wood with clear polyurethane after you have finished burning your letters. This will add a smooth, glass-like finish.