Things You'll Need
For each cushion:

High density foam (2" thick, 15" x 17")

21" x 35" outdoor canvas (for cover)

2 pieces of 3" x 16" outdoor canvas (for ties)

Marker

Scissors

Cardstock or cardboard for pattern

Sewing machine

Safety pins

Thread

Needle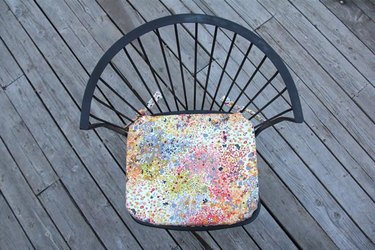 Outdoor furniture is sturdy, made to tolerate weather and much use. Sometimes patio chairs could use a little boost in the comfort department. With all of the shared meals and moonlight conversations happening around your patio table this summer, why not spiff up your seats? It takes only a bit of time and creativity to make your own patio seat cushions. Your neighbors and your back will thank you!
Step 1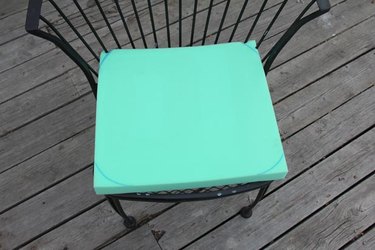 Place the foam on your chair and trace the basic shape of the chair seat. Using sharp scissors, shape the corners. After cutting one cushion, use it as a pattern for the others by placing the cut cushion atop the uncut cushion and tracing with a marker. Try to make each cushion the same shape. (High density foam is sold in sheets that can be cut down, as well as in pre-cut sizes. Save time and mess by purchasing pre-cut 15" x 17" rectangles.)
Step 2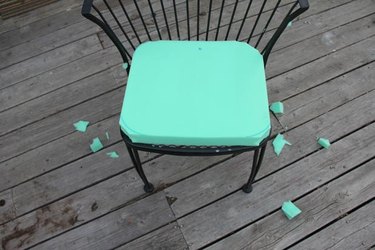 If your chair back is slightly rounded, simply snip the back corners at a 45 degree angle. Mark your cushion back with a dot to make it easier later.
Step 3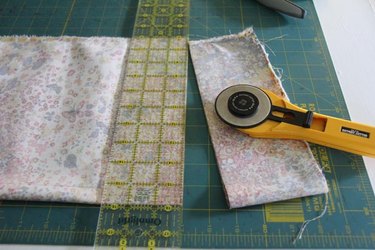 Cut outdoor canvas fabric to size. If the suggested amount of canvas listed above doesn't work for your chair seat, use this math: chair cushion width + 4 inches; chair cushion length x 2 + 5 inches
Step 4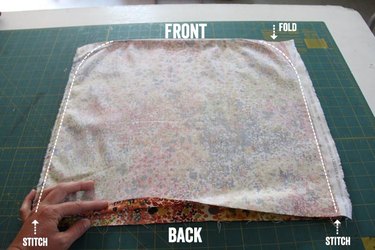 Fold canvas in half, right sides together, making a 21" x 17.5" rectangle. The folded edge will the be front of your cushion cover. Because the front corners of the foam are rounded, you will also need to round the front corners of the cover.
Step 5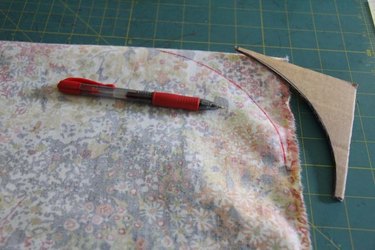 To make rounded corners, make a simple pattern out of cardstock. Tracing the edge of a plate makes a perfect arc. Then trace the pattern on the front corners of the cover.
Step 6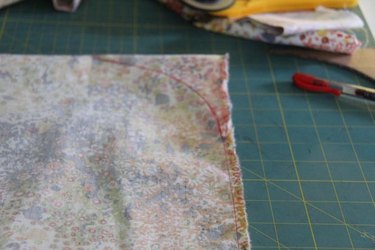 Using a 1/2" seam allowance, stitch up the side of the cover and around the curve you just traced. Repeat on the other side.
Step 7
Turn cover. Insert foam, using the dot as a quick reference for which end goes in first. The cover should be very snug.
Step 8
Fold the open end like wrapping a gift and safety pin in place.
Step 9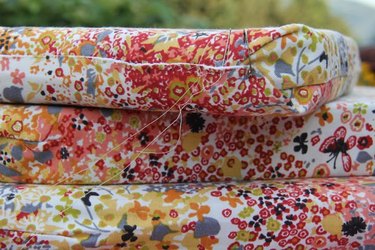 Using a needle and thread, whip stitch the opening together. Remove safety pins.
Step 10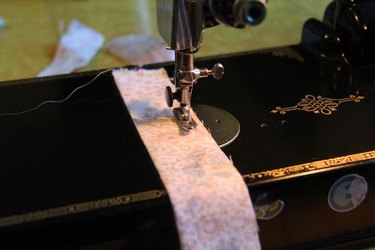 To make the ties, fold each piece of the canvas tie fabric in half, lengthwise with right sides together. Using the sewing machine, stitch one short side and the long side together. Turn. It can be tricky to turn a small item like this; use a chopstick or marker to assist. Tuck ends in and stitch closed.
Step 11
Using a needle and thread, attach ties to back of cushion at the corners.
Step 12
Tie to your chair and have a seat!