Things You'll Need
Square napkin (paper or cloth)

Safety pin or small diaper pin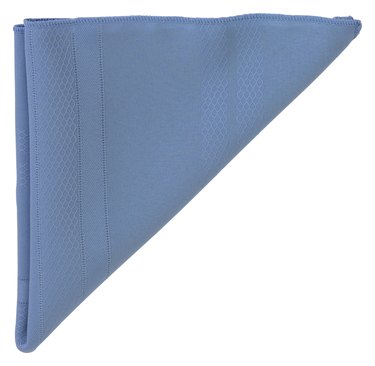 Cloth diapers are making a comeback. With environmentalists making the push for living green, many mothers are choosing cloth diapers for their little ones. Napkin diapers are perfect accents to any baby shower party theme.
Step 1
Fold your square napkin into a triangle, corner to corner diagonally.
Step 2
Place the triangle with the top facing down and fold the bottom point up to the middle of the top part of the triangle.
Step 3
Fold in both sides to the middle so they touch the top point of the triangle that was folded in step 2.
Step 4
Pin to hold all three points together.
Step 5
Place the diaper napkins at each place setting and use them to hold utensils or party favors.
Step 6
Tip
You can make a napkin diaper larger by folding only the top corner of the napkin instead of folding it completely in half. Decorate the diaper pins or safety pins by putting beads, decals or stickers them. Use colored, patterned or baby-themed napkins to make the diaper decorations.