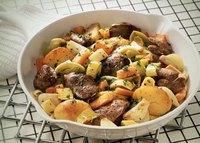 Chicken livers are not always well received by everyone. Some people hear the word 'liver' and immediately want to shy away. But when cooked correctly, liver can make up part of a delicious and healthy meal. Chicken livers are loaded with vitamins like B, A and folate. There are also a lot of nutrients in the liver that help support your immune system as well as your teeth, bones, skin and hair.
Things You'll Need
Chicken Livers
Knife
Water
Skillet
Olive Oil or Chicken Fat
Remove any green spots, excess fat or tendons from the chicken livers.
Place chicken livers and three to four tablespoons of olive oil or chicken fat in the skillet.
Cook on high for approximately four minutes until the liver is a light brown color.
Flip the chicken livers and cook for another three minutes.
Add in other seasonings, cover the skillet and change heat to low. Let it simmer for three minutes and then serve.