Things You'll Need
Wrapping paper

Gift basket

Spa tickets

Flowers and plants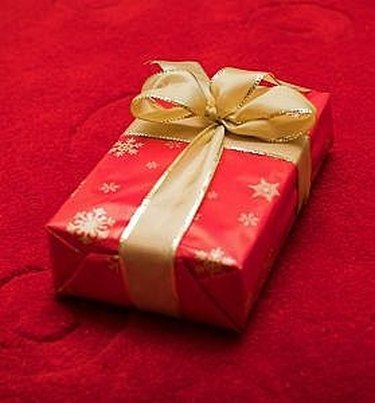 It may seem that your mom has everything she could possibly ever want or need. For this reason it could be difficult in finding a gift or present for her. Yes, it is a difficult task, but it is not impossible. What you need to do is forget the traditional gifts that people buys their mothers. Break out of the routine a little and think about your own special mom. If you do that, you will be able to come up with a few ideas for even the pickiest, hard to please mom, who has everything and anything you can imagine.
Step 1
First, you could start out with a list of things you know not to buy. This list could include perfume, slippers, nightgowns, robes, dishes, and knick knacks. Actually, wouldn't you say most mothers already have a pretty good supply of all of these?
Step 2
Take Mom shopping. Yes, actually take her with you. Ask her if she sees anything she wants or likes. Don't worry or fret if she comes up with no answer to your burning question. At the end of your shopping spree, take her out to dinner. You pay and present her with a nice card. Tell her that the outing and the dinner is part of her gift. Hopefully, she will be touched.
Step 3
Don't just buy her flowers or have them sent to her, if mom is a gardener. Buy her a bunch of flowers instead or a unique plant that she doesn't have. Then buy all the supplies she will need to plant it: soil, fertilizer, plant food. Don't stop there. Spend the time and help her plant the flowers or unique plant in her garden. Also stop by once in a while to check on the plant's growing process.
Step 4
Present mom with a unique present such as a fruit of the month, coffee of the month, etc, membership. Make sure it is a membership to a company that will be sending a monthly gift mom enjoys. If mom hates coffee, she will not be impressed by a new flavor every month. But if she loves coffee and loves trying new flavors she could be thrilled. Plus, this is a gift that continues giving all year long.
Step 5
Take mom on a trip. Yes, take time from your life and spend it with mom. It can be a day trip, a weekend trip or a weekend trip, whatever your budget and time will allow. Remember time with you, her child, is always a gift mom will love and only something you can give her.
Step 6
Give mom a gift certificate to a day spa. Allow her the luxury of being pampered. Of all the women you know, doesn't she deserve it?
Step 7
Think about giving gift baskets? These can be bought and filled with so many wonderful things from bath supplies, day spa supplies, coffees and teas, cookies and candies, and even breads.
Step 8
If at all possible, make sure you deliver your gift to mom in person. Spend time with her and treasure that time. Remember we should not only honor mom, we should want to spend time with her and make sure she realizes that we enjoy that time we spend with her. That is a gift in itself that we can give to her all year long.
Tip
Take time in deciding what to give. Remember spending time with your mom is always a gift she will love.