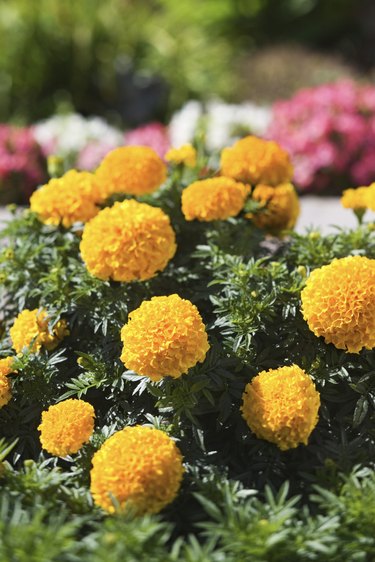 Marigolds invoke summertime and gardening and home. These attractive flowers are great assets in gardens -- valuable for their insect-repelling characteristics as well as for their hardiness. The French marigold grows well as a mass planting along borders or in window boxes as it grows only 12 to 18 inches high. Other varieties grow several feet tall and make beautiful specimen plants mixed with other flowers. Marigold seeds are some of the easiest to harvest and save for another season of blooms. You needn't purchase new seeds every year when you can pick your own and dry them.
Step 1
Go into the garden in the fall on a sunny morning and pick a bunch of seed heads from the dying marigold plants. Choose ones that are dry and firm, not spongy.
Step 2
Place them on a tray in a single layer and set them in the sun to dry. Bring the tray in at night and set it back out in the sun the next day until the seedpods are dry to the touch.
Step 3
Bring the tray inside and pull the individual seedpods apart with your fingers. Catch the individual seeds in the tray.
Step 4
Place the seeds in a paper bag and set it aside in a cool, dry place to wait for spring.
Step 5
Plant the seeds in the spring just as you would any that were bought from a store. Each seed head contains about 150 seeds, so after picking just a few dead flower buds you should have plenty for yourself and your neighborhood.
Tip
If you harvest from hybrid marigolds, the seeds do not produce the exact same kind of flowers.