Before you drop a broken item or unneeded item into a garbage bag or donation bin, ask yourself, "Could this be repurposed as a planter?" You might be surprised by how often the answer is "yes." An orchid might not thrive in a planter made from an old microwave, but low-maintenance plants, like succulents, can fare well in just about any kind of vessel. Keep your garden in mind the next time you're scouring a thrift store or flea market for treasures.
Many household objects will need drainage holes added before they can be repurposed as planters or water will be trapped in the soil and may damage your plants' roots. It should be quick and easy for an adult to drill holes in objects made from metal, rubber or wood.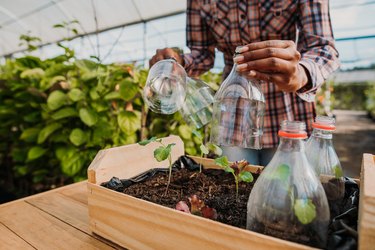 The old wheelbarrow planter is a classic for good reason. A rust-eaten or rickety wheelbarrow serves no practical purpose except as scrap metal, but it can still function as a piece of art in your yard. The more beaten up the wheelbarrow, the more of a contrast it'll create with bright, blooming flowers.
Wheelbarrows are also useful because they're large enough to hold several different plants, allowing you to create container gardens full of herbs or colorful flowers. Even if you keep plants in their original pots inside the planter, create at least one drainage hole in the wheelbarrow itself.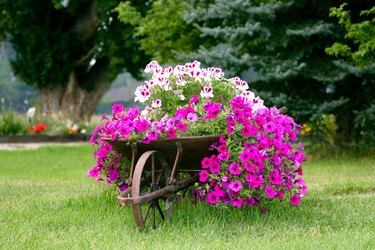 Tin cans are the perfect size for nurturing seedlings or creating a miniature windowsill herb garden full of small plants. Choose empty cans with no jagged edges and wash them well. If you want, spray paint the outside of the cans and the top few inches of the inside to give your planters a pop of color. To use cans as hanging planters, drill a few holes near the top of each can and thread rope through the holes to create a hanger. Old paint cans can also be used to grow flowers but don't plant anything edible in a can that used to hold paint.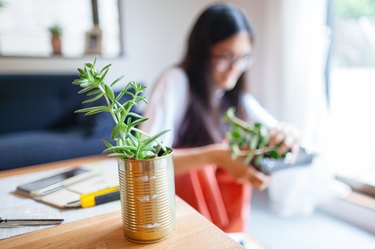 Repurposing old tires as DIY planters is even easier than taking them to the dump, and they provide the perfect canvas for a little artistic expression. Paint tires with all-over color and stack several together to create a tall planter with an ombré or rainbow effect, or paint them with graphic designs or in the colors of your favorite sports team. Old tires can be used as planters either lying on the ground or suspended from a sturdy beam. You only need to create drainage holes if you're hanging your tire planter vertically.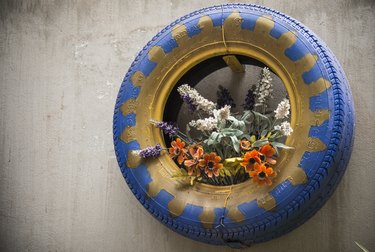 The old leaky or too-small rain boots still kicking around in the back of your closet can find new life as garden planters. You already know they're made to withstand all kinds of weather conditions, so rain boots are ideal as upcycled planters for an outdoor space. Use a variety of sizes and colors of boots to create a "family" of planters at the edge of a flower bed.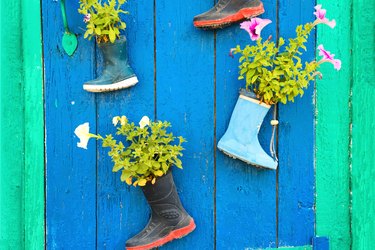 They're super durable, have handles that make them easy use as hanging planters and there's no need to add drainage holes. The only problem with repurposing metal or enamel colanders as DIY planters is that they might provide too much drainage, letting both soil and water trickle out. That's OK for an outdoor planter but not ideal for indoors. Line the colander with cheesecloth or burlap to keep the soil in but still allow for drainage.
You can't drill drainage holes into the bottom of teacups and teapots, so they're ideal for succulents that need very little water. Buy some small potted succulents and pop the plants straight out of their pots and into the teacups for the easiest-possible DIY planter. Cluster several teacup planters together for a centerpiece.
For a teapot planter, cover the bottom few inches of the pot with small rocks like you would use in the bottom of a fish tank. Top that with soil to fill the rest of the pot and then add the succulents. When you do have to water the plant, the gravel allows excess water to drain out of the soil.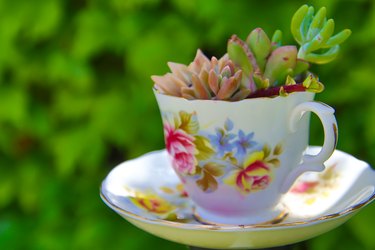 These days, we all have more cardboard boxes than we know what to do with. Reusing cardboard boxes as outdoor planters is one of those DIY projects that's perfect for keeping kids busy on a rainy afternoon. You don't even need to drill holes for drainage; a screwdriver or pair of scissors may be sufficient for creating drainage holes.
Paint boxes however you want and then fill them with potting soil and add plants. Prop cardboard planters on top of an old pallet, bricks or rocks so rainwater doesn't pool around the bottom of the boxes. They'll gradually fall apart over the year as the cardboard gets soggier and soggier, but they'll nurture your plants for a little while at least.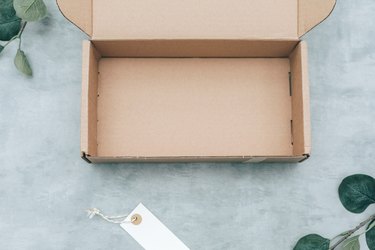 A decorative birdcage is not going to be the right planter for something with a deep root system, but it's perfect for displaying a succulent garden. Line the bottom of the cage with gravel and a layer of potting soil and nestle succulents into the soil or fill the birdcage with realistic but fake greenery so the branches trail out through the cage's bars.
Like colanders, plastic crates are a natural fit as DIY planters because they're sturdy, lightweight and full of drainage holes. You can easily move them around your garden too. Use plastic crates as container gardens to hold individual flower pots or line the crate with burlap and potting soil so you can plant seedlings.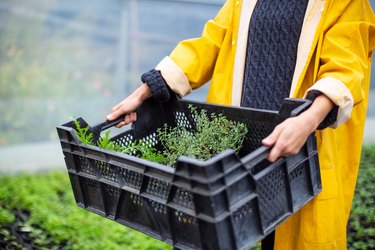 Do you want to add some whimsy to your space? Transform old or broken toys into planters. Toy dump trucks and other large vehicles are perfect for this project, but any number of old plastic or metal toys can be repurposed as planters. You can even tap into your inner child by building a planter from scratch out of Legos.