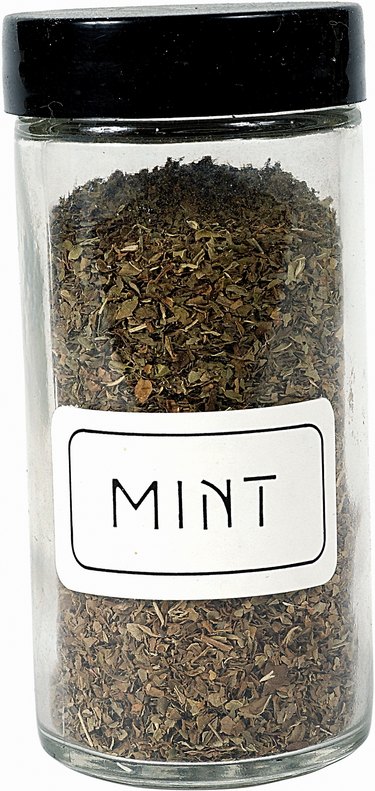 Peppermint and spearmint are easy to grow herbs. They spread quickly and can add aroma to any herb garden. Peppermint and spearmint can be used in cooking, teas, cosmetics and crafts. To preserve peppermint and spearmint for use during winter months, dry the leaves in the over or dehydrator, or air dry the leaves in stems.
Step 1
Cut the stems 5 inches above the surface of the ground to keep the plant healthy. Wash the cut stems in cold water and shake off excess water.
Step 2
Make small bunches of plants by tying 8 to 12 stems with thread. Hang the plants upside down to air dry.
Step 3
If you want to use the dehydrator, remove the leaves from the stem and place them on a drying tray. You may want to line the tray with plastic wrap prior to drying. Preheat the dehydrator to a temperature between 95 to 115 degrees Fahrenheit, or even 125 F in conditions of high humidity.
Step 4
You can also dry peppermint or spearmint in the oven by setting it to a very low temperature, or just by keeping the pilot light on. The temperature should ideally be between 90 and 110 degrees. Lay the leaves out on a flat surface and place them in the oven checking them often.