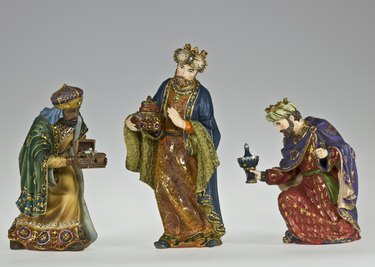 Three Kings Day, also known as Feast of the Epiphany, has its origins in Catholic traditions and is celebrated mainly in Spain and Mexico. The meal concludes the Christmas holidays and usually consists of simple, hearty fare followed by the serving of a King's Cake.
Soup or Salad
Meals begin with a light soup or salad that features local ingredients. Since many countries that celebrate Three Kings Day are in the Mediterranean, Costa Rica, Mexico or other warm regions, this course is generally kept light and suitable for dining al fresco in a warm climate.
Mexican soups and salads may feature yucca, nopales and plantains. You can duplicate the same idea by preparing a soup or salad featuring locally grown produce.
Picadillo Meat Course
Picadillo is an all-purpose Spanish word for leftover or slow-cooked meat, sauteed with onions, tomatoes, garlic and herbs. Picadillo is used as a filling in tamales, enchiladas and as a layer in casseroles.
Create your own picadillo main course with hamburger, slow-cooked brisket, beef roast or pork tenderloin. Estimate 4 to 6 ounces of meat per serving and 2 to 3 ounces of produce per serving. Add 2 tablespoons of oil to a large frying pan and sauté one diced whole white onion over medium heat until translucent and lightly browned, about 5 minutes. Add chopped tomatoes and chopped hot or sweet peppers if desired, and sauté another 10 minutes. Add the meat and two to three cloves of minced garlic and cook the meat thoroughly if raw, or heat through if pre-cooked.
Traditionally, picadillo is served over rice, but you can also serve it over pasta or mashed potatoes.
Rice, With Legumes or Corn
Traditional side dishes for a Three Kings Day meal are black beans and rice, which are also staple accompaniments for many Spanish-influenced daily meals. However, some families have a tradition of serving the rice with peas or corn niblets instead.
Prepare the beans and rice separately. Dried beans will require more time and may require overnight soaking and use of a slow cooker. For a speedier solution, simply use canned beans, which should be warmed in their juice for 10 minutes over medium heat. Drain before serving. A rice cooker will make preparing rice much easier, but with either a rice cooker or stovetop, figure at least 40 minutes for the rice.
Serve rice and beans side by side on a platter. Fresh peas or corn may be mixed into the rice while the rice is steaming.
King's Cake
The highlight of the celebration is the King's Cake, which is shaped into an open circle, or wreath, and studded with candied fruit and nuts to represent the jewels in the Magi's crowns. There are plenty of recipes for King's Cake, but you can also use frozen bread or biscuit dough to create a wreath shape or oval braid, or even buy a fruitcake ring from your local grocer.
The tradition of the King's Cake requires that you hide a tiny baby doll, which represents the Baby Jesus, within the cake. Whoever receives the serving with the Baby Jesus must host a celebration on February 2 called Día de la Candelaria or Candlemas.