Ropa Viejo isn't just "a Cuban dish," it's the Cuban dish. What started as a peasant meal of sorts has become the official dish of the nation. Once you make it, you'll understand why. It's rich, hearty, and made to feed a crowd. It also freezes and reheats well, it's even better the next day.
Things You'll Need
2 lbs beef chuck roast (2-3 inches thick)

1 tablespoon salt

2 teaspoons pepper

1 tablespoon olive oil

2 large carrots, chopped

1 large white onion, chopped

2 ribs celery, chopped

1 of each large green, red and yellow bell pepper, thinly sliced

4 cloves garlic, smashed

3/4 cup dry white wine

1

½

cups chicken broth

6 oz tomato paste

2 teaspoons dried oregano

2 teaspoons dried cumin

1 teaspoon smoked paprika

1 cup green olives with pimentos

1/3 cup chopped fresh parsley (plus additional for garnish)

Rice for serving
Step 1
Liberally salt and pepper the beef on all sides
Step 2
Heat the olive oil in a large Dutch oven over high heat. Sear the beef on all sides.
Step 3
Remove the steak, lower the heat to medium and add the onions, carrots, celery, and peppers. Cook, stirring occasionally until the vegetables have started to caramelize, about 15 minutes.
Step 4
Stir in the garlic, then add the wine, scraping to deglaze the bottom of the pan.
Step 5
Stir in the broth, tomato paste, oregano, paprika, and cumin. Add the beef back into the pot, cover and simmer for 2-3 hours or until the meat pulls apart easily with a fork.
Tip
Don't have time to babysit this dish? Use a slow cooker! At this point, the meat, vegetables and broth can be transferred to a slow cooker. Just cook on high for 4 hours in your slow cooker, then continue with the next steps.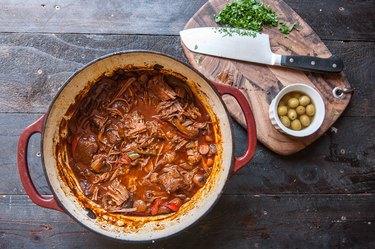 Step 6
While the meat is still in the pot, shred using two forks.
Step 7
Stir in the olives and parsley, cook on medium for 10 minutes. Serve over rice, sprinkle with parsley.