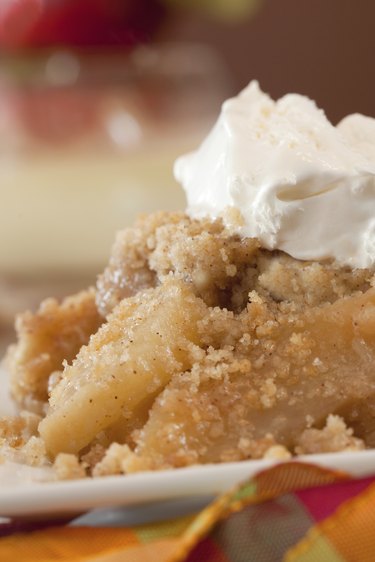 Start to Finish: 90 minutes
Servings: 7
Difficulty Level: Beginner
You want the flavor of an apple pie but don't have time to make the dough? Try a homemade apple crisp. The soft-baked apples complements the crunchy oat-based crumble for a crowd-pleasing dessert. Serve apple crisp warm or cold; this also gives you the option to prepare it ahead of time. It goes well with ice cream or whipped cream; however, it is just as satisfying as a standalone dessert.
Ingredients
Apple filling 4 large Granny Smith apples, peeled and sliced 2 tablespoons brown sugar 2 tablespoons lemon juice 1/4 teaspoon cinnamon 1 teaspoon ground ginger Pinch of salt
Streusel-style Crisp Topping ½ cup all-purpose flour ½ cup rolled oats ½ cup brown sugar ½ teaspoon vanilla extract * ¼ cup cold, unsalted butter, cubed
Directions
Preheat the oven to 350 degrees Fahrenheit.

Put the thinly sliced apples in a large bowl.

Add the brown sugar, lemon juice cinnamon, ginger and dash of salt into the bowl. Toss the apples until they are coated in the seasoning; layer the apples evenly into an 8-by-8-inch baking dish.

In the same bowl, add the flour, rolled oats, brown sugar, vanilla extract and butter. Combine the ingredients with your fingers until you have dough-like clusters of streusel.

Spread the crumble topping over the apples. Put the baking dish in the oven and let it cook for about 45 minutes or until the apples are tender. Use a knife to check if the apples are tender. It should be easy to put the knife through the apples when the dish is done.

Remove the crisp from the oven when it is done and let it cool in the baking dish for 20 minutes.
Choosing the Right Apples
If you don't have access to Granny Smith apples, choose any firm and crunchy apple variety, such as golden delicious, honeycrisp, pink lady or Fuji apples. It's best to use a combination of sweet and tart apples.
Tips and Cautions
Do not reheat apple crisp. Serve the dish warm or refrigerate it and serve it cold. Warming apple crisp makes the apples mushy.
Always remove the skin from the apples. No shortcuts, the apple skin will create an undesirable texture. Use a vegetable peeler to remove the skin and do not forget to core the apples.