Popovers are delicate, hollow rolls that are similar to Yorkshire pudding. They're a wonderful accompaniment to holiday meals! The best popovers have crisp, golden exteriors and delicate, soft interiors. While many recipes call for dedicated popover pans, there's absolutely no reason to purchase special equipment, especially if you'll be making them infrequently. For an easy kitchen hack, you can make perfect popovers in standard muffin tins. This recipe makes easy, classic popovers, and it also includes an option for cheese. Stirring a bit of shredded cheese into the batter just before baking creates popovers that are even more savory and delicious.
Things You'll Need
2 tablespoons unsalted butter, melted (plus more for greasing the pan)


1 cup whole milk, lukewarm or room temperature


1 cup (5 ounces) all-purpose flour

1 teaspoon kosher salt


1/2 teaspoon granulated sugar


3 large eggs, room temperature


optional: 1/2 cup + 2 tablespoons shredded cheese, such as sharp cheddar or gruyere


2 standard 12-cup muffin tins


blender

Step 1: Gather Your Ingredients and Equipment
These rolls are known as "popovers" because they rise somewhat dramatically above the pan, much more so than standard muffins. For this reason, you will need two standard 12-cup muffin pans (not minis) so that you can leave an empty space between each popover.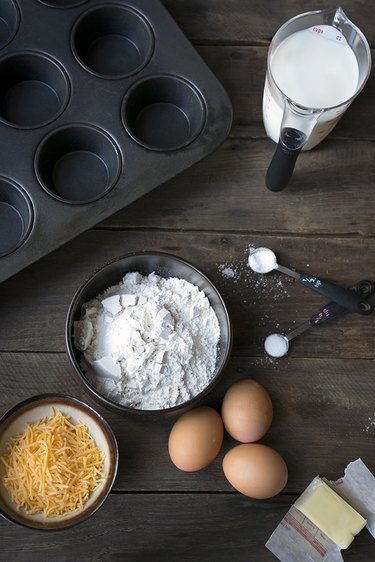 Tip
Whole milk will yield best results, but 2% or 1% milk will still work. For a bit of added decadence, try swapping out 1/4 cup of the milk with cream.
Step 2: Prepare the Baking Sheets
Place an oven rack on the lowest shelf and preheat the oven to 400 degrees F. Very thoroughly grease 10 of the muffin cups with butter (baking spray will also work), alternating spots to allow room for the popovers to "pop over." Pour 1 to 2 inches of water into the unused cups to protect the pan from warping.
Warning
If the popovers get stuck to the pan, they are almost impossible to remove without breaking due to their hollow shape. To prevent this, make sure to butter the pan very well, including buttering slightly over the tops of the cups.
Step 3: Combine Ingredients
Add the melted butter, milk, flour, salt, sugar and eggs to a blender. Turn the machine on low to combine the ingredients, and then slowly turn the speed up to high. Puree for approximately 20 to 30 seconds until the batter is smooth and frothy. There should be no lumps.
Step 4: Divide the Batter and Bake the Popovers
Measure approximately 1/4 cup batter into the greased muffin cups. For cheesy popovers, stir 1 tablespoon of cheese into each cup, mixing with the batter. Place both pans into the oven next to one another on the same shelf (they can be baked in two batches if both pans don't fit at once).
Bake for 25 minutes at 400 degrees Fahrenheit, then lower the temperature to 350 degrees Fahrenheit and cook for an additional 20 minutes. Remove the muffin pans from the oven.
Carefully remove the popovers from the pan and serve immediately. Whether they're plain or cheesy, popovers are a fantastic addition to any holiday meal.