Things You'll Need
Yellow hooded sweatshirt

Yellow sweatpants

Red T-shirt

Yellow sneakers or bedroom slippers

Scissors

Yellow and blue construction paper

Heavy-duty double-stick tape

Yellow face makeup

Black eye pencil

Oatmeal canister

Black permanent marker

All-purpose glue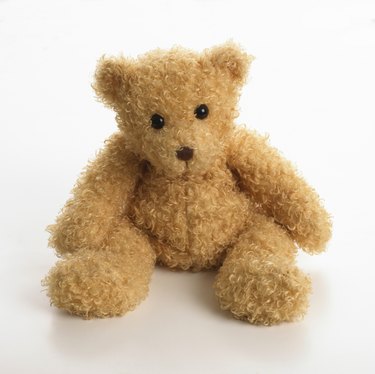 Winnie the Pooh is the silly, lovable, honey-loving bear that lives in the Hundred Acre Wood with his stuffed-animal friends. Pooh Bear was born in 1925 when British author A.A. Milne began writing stories about a stuffed bear and other toys that belonged to his son. Since then, Winnie the Pooh has inspired Disney movies, television shows, books and toys. The bear's plump yellow profile and red shirt translate easily to a costume that can be adapted to fit a fan of any age or size.
Step 1
Wear a pair of yellow sweatpants and a matching hooded sweatshirt. A pullover-style sweatshirt creates a more finished look than one that zips. Pull a short red T-shirt over the sweatshirt. If necessary, trim the T-shirt so it exposes the belly portion of the sweatshirt. On your feet, wear yellow sneakers or bedroom slippers.
Step 2
Pull the hood on your head and tie the drawstring snugly. Cut two round ears -- approximately 3 inches in diameter for an adult's costume, and 2 inches for a child's costume -- from yellow construction paper. To create a tab for attaching the ears, make a 1/2-inch fold on each ear. Apply a piece of heavy-duty double-stick tape to each of the tabs, and then attach the ears to the hood.
Step 3
Apply yellow makeup all over your face, following the manufacturer's directions and avoiding the eyes and mouth. Cover your eyebrows with the makeup, if possible. Use black eye pencil to draw small eyebrows high on your forehead and a circle on the tip of your nose. Draw a smile below your lower lip and accent each end with a curved cheek line.
Step 4
Accessorize the costume with a honey pot made from an oatmeal canister. Remove the label from the canister and cover the canister with blue construction paper. Use permanent marker to print "HUNNY" on the front of the canister. Cut "honey drips" from yellow construction paper and glue or tape them to the canister. If the Winnie the Pooh costume is for Halloween, the honey pot can do double-duty as a treat container.
Tip
To copy Winnie the Pooh's tubby tummy, tuck a small, soft pillow under your sweatshirt and into the waistband of the sweatpants.
Winnie the Pooh's adventures always involve his friends from the Hundred Acre Wood. As part of your costume, carry a toy version of Tigger, Rabbit, Eeyore, Christopher Robin or another character.
Warning
Makeup can cause allergic reactions, especially in children. If this is a concern, look for hypoallergenic products or eliminate makeup from the costume completely.
If the costume is for a child, make sure to address any safety risks. Drawstrings and small, loose items can pose choking hazards.