Things You'll Need
1 whole or half leg of smoked ham on the bone

1 tbsp pepper corns

3 to 4 bay leaves

Brown sugar

Cloves

French mustard

Large pot or bowl

Roasting pan

Sharp knife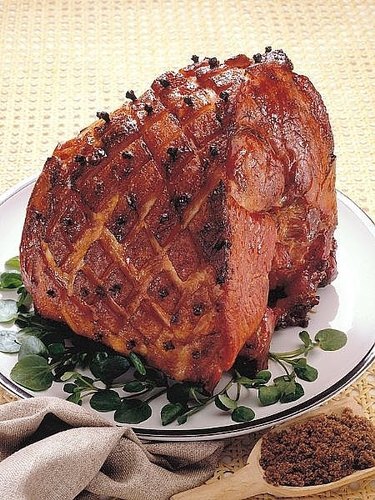 How to Cook a Ham. Nothing says home cooking like a baked ham. This recipe is simple but delicious and is sure to have your family begging you to cook a ham more often.
Step 1
Place ham in a large bowl. Fill the bowl with enough water to completely cover the ham and soak the ham overnight. This will remove any excess saltiness.
Step 2
Place the ham in fresh water. In a large cooking pot place the ham and add fresh water to cover the ham. Add the bay leaves and pepper corns to the water and bring the water to a boil.
Step 3
Simmer the ham. Once the water has come to a boil turn the temperature down and simmer the ham for twenty minutes per pound of ham.
Step 4
Peel and score the ham. When the simmering is done remove the ham from the water and peel the skin from the ham, leaving the fat layer intact. Using a sharp knife score (cut) the fat layer in a criss-cross pattern to create diamond shapes in the fat.
Step 5
Coat with mustard. Coat the fat layer with the French mustard.
Step 6
Cover with brown sugar. Cover the mustard coated ham with the brown sugar.
Step 7
Insert cloves. Stick a clove in each of the diamond shapes on the fat layer of the ham.
Step 8
Cook the ham. Pre-heat the oven to 325 degrees Fahrenheit. Bake the ham for 35 minutes.
Step 9
Cool ham. Remove the cooked ham from the oven and allow the ham to rest for ten to fifteen minutes.
Step 10
Carve the ham. Carve the ham around the bone and serve.
Tip
Allowing the ham to rest before cutting allows the cooked ham to retain its juices.