Things You'll Need
Scissors

Strapless bra (for women)

4-5 yards of linen fabric

Accessories- jewelry, brooch, sandals with straps and laurel.

Needle and thread

Large safety pins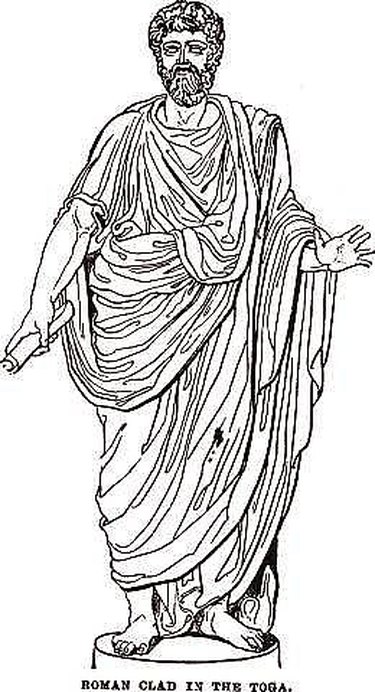 How to Make a Toga. The toga is a traditional Roman garment, worn mostly by men. However, nowadays both men and women like to wear them for theme or college parties. Whatever the occasion may be, the toga is cheap and easy to make so you can fashion yourself into a Greek hero in no time at all.
Step 1
Get four to five yards of rectangular linen cloth, preferably white or solid color.
Step 2
Shape the material in the form of a semi-circle using a good, sharp pair of scissors.
Step 3
Next, make an additional cut into the top center of the semi-circle approximately 1/4" to 1/3", into center of the fabric.
Step 4
Hem the ends of the fabric if you want. This step is optional.
Step 5
Wrap one side of the semi-circle around your waist and secure the corner of to the right side of the body with a safety pin. The do the same for the left side.
Step 6
Note that the fabric should hang to the knees.
Step 7
Throw the remaining part of the fabric over your left shoulder.
Step 8
Fasten it with a safety pin or decorative brooch.
Step 9
Bring loose end part of the toga to the waist and tie it with safety pin or simply tuck it in. You may need to wrap it several times around your body if the fabric is too long.
Tip
Accessorize with gold plated necklaces, laurel leaf crowns, strapped sandals and swords. Women should wear a strapless bra to preserve modesty.
Warning
Do not use bedsheets to make togas. Do not use printed fabric to make togas; white or off-white materials only.