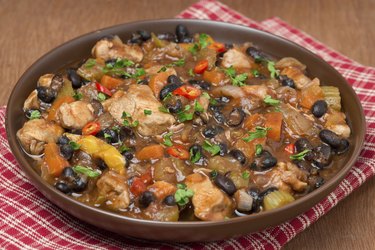 Start to Finish: 45 to 50 minutes Servings: 6 Difficulty Level: Beginner
Hearty and comforting with a bold Southwestern flavor, chicken stew is a one-pot wonder that can be put together in just under an hour. In a recipe adapted from Fine Cooking's Southwestern Spiced Chicken & Black Bean Stew, chipotle peppers in adobo sauce add heat and smokiness, Mexican oregano contributes a hint of pungent earthiness and sweet stewed tomatoes balance the stew's bold flavors. Garnish with a dollop of sour cream and serve alongside tortilla chips or warmed tortillas.
Ingredients
4 bone-in chicken thighs, skin removed
2 tablespoons extra virgin olive oil
1 large red onion, diced
1 green bell pepper, diced
1 14.5-ounce can black beans, rinsed and drained
1 14.5-ounce can diced stewed tomatoes
2 chipotle peppers in adobo, finely diced
1 teaspoon ancho chili powder
2 teaspoons cumin
1 teaspoon Mexican oregano
2 cups chicken broth; more if needed
Salt and pepper, to taste
Sour cream, for garnish
Instructions
Heat the olive oil in a large pot over medium high heat. Season both sides of the chicken thighs with a few dashes of salt and pepper. When the oil shimmers with heat, add the chicken thighs to the pot. Cook for 2 to 3 minutes per side, until browned.
Remove the chicken thighs from the pot and add the diced onion and bell pepper.
Cook, stirring frequently, until the onion softens and becomes slightly translucent, 8 to 10 minutes.
Add the black beans, stewed tomatoes, chipotle in adobo, ancho chili powder, cumin, Mexican oregano and chicken broth. Bring to a boil, and then reduce to a gentle simmer.
Return the chicken thighs to the pot, cover with a lid, and let simmer for around 35 minutes or until the chicken is completely cooked through.
Remove the thighs from the pot and let cool.
Shred the chicken, removing and discarding of the bones.
Return the shredded chicken to the pot. Turn off the heat and serve, garnished with a dollop of sour cream.
Substitutions
Vary the stew to your liking. Chicken stew is versatile and can easily be customized to suit your tastes. Try using pinto beans instead of black beans, add a cup or two of canned or frozen corn, or leave out an ingredient such as Mexican oregano if you don't care for the flavor. Use a finely diced jalapeno instead of chipotle in adobo, or leave the peppers out if you prefer a milder stew.
If you don't have chicken thighs, chicken breasts are a great alternative.
Serving Suggestions
Garnish your bowl. Garnishes dress up chicken stew and lend additional flavor. A dollop of sour cream add a cool, creamy touch, crumbled tortilla chips add crunch, and freshly chopped cilantro contributes freshness and complements the stew's Southwestern flavor.
Suitable sides. Serve chicken stew over a generous spoonful of white or brown rice, or paired with warmed tortillas for dipping.