Things You'll Need
1 tbsp. olive oil

2 tsp. minced or chopped garlic

1 (28-oz.) can whole tomatoes

salt and pepper

about 1/4 c. fresh basil, chopped

Groceries

Food Processors

Saucepans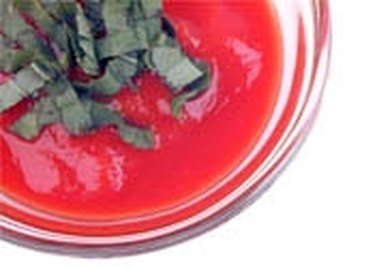 How to Make 10-Minute Tomato Sauce. This speedy recipe uses canned whole tomatoes and has a fresher flavor than any prepared sauce. It can be used on its own or as the base for other sauces. Makes enough for a pound of pasta.
Step 1
Heat the oil in a saucepan and sauté the garlic for 30 seconds.
Step 2
Open the can of tomatoes and add it to the pan.
Step 3
Bring the liquid to a fast simmer and cook for about 5 minutes.
Step 4
Blend or chop the tomatoes. You can use a hand blender to coarsely puree the tomatoes or use a large spoon to mash them up right in the pot, or transfer the mixture to a blender or food processor.
Step 5
Season to taste with salt and pepper and continue mashing or pureeing until sauce is coarse but smooth.
Step 6
Tip
Don't worry too much about precise measurements. Just add enough cooked garlic, salt, pepper and basil until the sauce tastes right to you. You can also skip the garlic in this recipe or use garlic powder. The sauce can be enjoyed by itself for a quick dinner, but you can also add vegetables to your pasta for a more substantial meal: sautéed mushrooms, zucchini and so on.