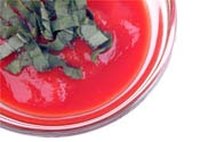 How to Make 10-Minute Tomato Sauce. This speedy recipe uses canned whole tomatoes and has a fresher flavor than any prepared sauce. It can be used on its own or as the base for other sauces. Makes enough for a pound of pasta.
Things You'll Need
1 tbsp. olive oil
2 tsp. minced or chopped garlic
1 (28-oz.) can whole tomatoes
salt and pepper
about 1/4 c. fresh basil, chopped
Groceries
Food Processors
Saucepans
Heat the oil in a saucepan and sauté the garlic for 30 seconds.
Open the can of tomatoes and add it to the pan.
Bring the liquid to a fast simmer and cook for about 5 minutes.
Blend or chop the tomatoes. You can use a hand blender to coarsely puree the tomatoes or use a large spoon to mash them up right in the pot, or transfer the mixture to a blender or food processor.
Season to taste with salt and pepper and continue mashing or pureeing until sauce is coarse but smooth.