Things You'll Need
Mixing bowl

Spoon

Serrated knife

Baking sheet

Olive oil or cooking spray

Cutting board

4 cups bread flour + more for dusting*

1 tablespoon baking powder

1 teaspoon baking soda

1 teaspoon sea salt

1 tablespoon caraway seeds

1 cup raisins or currants, rinsed in hot water and patted dry

2-1/4 cups buttermilk

*You can also use regular all-purpose flour or gluten-free all-purpose flour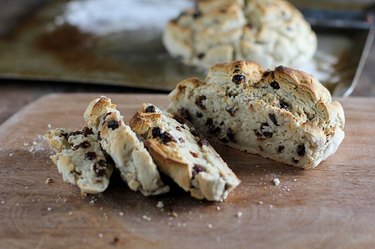 What better way to celebrate St. Patrick's Day than with a thick slice of Irish Soda Bread slathered in butter and jam? Made without yeast, Irish Soda Bread uses baking soda as the leavening agent and does not need time to rise. Quick and easy, the bread requires less than one hour from start to finish.
Instructions
Step 1
Preheat the oven to 350 degrees F. Lightly oil a large baking sheet using olive oil or cooking spray. Sift together flour, baking powder, salt and baking soda in a large mixing bowl.
Step 2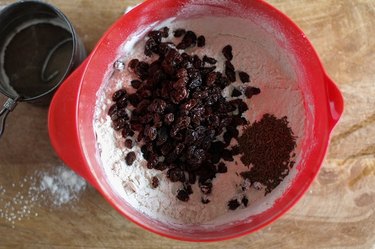 Add the raisins and caraway seeds and stir well to combine.
Step 3
Create a well in the center of the flour mixture.
Step 4
Pour the buttermilk into the well.
Step 5
Stir the buttermilk into the flour mixture, starting in the center and working your way to the outside of the bowl until a dough forms. If needed, add additional buttermilk (2 tablespoons at a time) to form the dough.
Step 6
Turn the dough out onto a lightly-floured surface and knead for 1 minute. Form a large disc out of the dough.
Step 7
Cut the dough in half with a knife and with floured hands, form two small discs out of the dough.
Step 8
Using a serrated knife, cut a 1/4-inch deep X into each disc of dough.
Step 9
Place both discs of dough on the lightly-oiled baking sheet. Be sure to place the discs far apart, as they will rise while baking.
Step 10
Bake for 45-55 minutes, or until crust is golden brown and bread tests clean when poked with a knife. Remove from the oven and allow bread to cool at least 20 minutes.
Step 11
Place Irish Soda Bread on a cutting board. Using a serrated knife, cut slices 1 to 1.5 inches thick.
Step 12
Slather with butter/and or jam and enjoy alongside your favorite entree!
Tip
In order to make this bread gluten-free, replace the bread flour with gluten-free all-purpose flour.
If desired, omit the raisins or replace with dried cranberries.
Change up the flavors by adding your favorite dried herbs, such as a combination of rosemary, thyme, and basil. You can also add up to 1 cup of grated cheese, such as Gruyere, Parmesan, Asiago, etc. Add any additional ingredients to the flour mixture prior to adding the buttermilk.
Warning
Use unexpired baking soda and baking powder. If either/both of these ingredients are expired, the bread will not rise the way it is meant to.
Soaking the raisins in hot water for a minute or so results in sweet, plump raisins, which taste great in this bread. Be sure to pat the raisins dry prior to adding them to the flour mixture, or else the liquid portion may be slightly off.