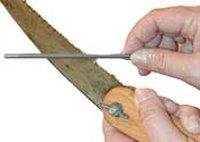 How to Sharpen a Pruning Saw. Use pruning saws for removing larger limbs and branches. While there are several types of pruning saws, all have a toothed, saw blade. Keeping the toothed blade sharp is tedious, but it's easy - and very important. Here's what to do.
Things You'll Need
Lubricating Oils
Metal Files
Open the saw if it is a folding variety.
Place the pruning saw in a vice, blade facing up. Clamp tightly in place so the blade doesn't move.
Sharpen the saw blade with a small, round file. The teeth of the saw alternate with a beveled edge and a flat edge. Sharpen only the beveled edges.
Pull the file between each beveled tooth on the saw blade.