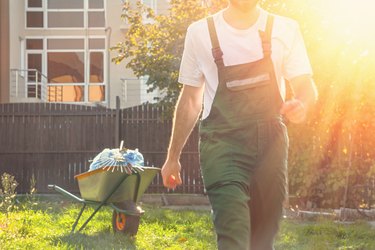 Even the most minor gardening projects can find you lugging around an array of tools and supplies. Add some spring pruning to this list and you're stuck dealing with a debris pile of leaves and branches, which can be massive and heavy. However, you can save some of your precious energy as well as your back by investing in a durable and well-made garden cart. Once you use it, you'll wonder how you ever lived without one.
Garden carts alleviate the need to make several trips to the garage or shed to retrieve more tools or supplies you couldn't carry. They will also do your back a favor by easily carrying heavy loads of soil, mulch and even rock. An appropriate garden cart will assist in making quick work of your garden endeavors no matter the size.
Regardless of your needs and desires, you have a vast selection of garden carts that are up to getting the job done. Whether you need one for lightweight work or a cart that will carry a vast amount of poundage, there's a garden cart that will fit your specific requirements. Before rushing out to purchase a garden cart, here are some things you need to consider so you can choose the best cart for your particular needs.
What to Consider When Purchasing a Garden Cart
‌Wheels:‌ You can purchase garden carts with either two or four wheels. Two-wheeled carts are a good choice for those who have smaller properties and won't be carting heavy objects like big tree limbs. These are perfect for those with urban gardens who don't have to pull the cart over acres of rough terrain. However, if you have a larger property with uneven and rugged soil, a four-wheeled cart is better suited to get the job done due to its durability and steadiness. The four wheels are better able to handle rough terrain and some heavy-duty models offer a high weight capacity.
Additionally, garden carts with large wheels handle going over any terrain better than those with small wheels. You are less likely to get bogged down in the grass or dirt when handling a garden cart donning large wheels.
‌Maneuverability:‌ You'll also want to select a garden cart that is easy to maneuver, as the last thing you need when working in the garden is to have to war with the cart to get it to go in the direction you want. It's also important for you to easily be able to dump the cart's contents with minimal effort. Some basic types of garden carts can easily be dumped (like a wheelbarrow) and slightly more expensive models have a tilting mechanism you deploy when you want to dump the debris.
‌Bed Size and Load Capacity:‌ Garden carts come with a variety of bed sizes and you'll want to be sure to get one that's big enough to handle what you intend to carry in it. Different carts can handle carrying different weights, so if you plan on carrying heavier debris or rock, you'll want to select a cart that can support the weight. However, if you'll only be dealing with lighter and smaller yard waste, your basic gardening cart should be sufficient. Each gardening cart will advertise its load-carrying capacity and bed measurements, allowing you to make an informed choice.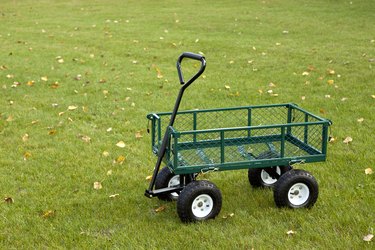 The Best Overall Garden Cart
Gorilla Carts are known for their quality and durability, and this particular garden cart lives up to the brand's name. The cart has a 2-in-1 convertible handle that you can use to maneuver the cart by hand or tow it behind a tractor or ATV. If you plan on hauling heavy loads of rock, tree limbs or anything else, this garden cart stands up to the weight and can handle up to 1,200-pound loads.
The 40-by-26-inch poly bed is durable, rust-proof and attached to a steel frame. When it comes to dumping or loading the garden cart, this model features a quick-release that makes the process easy. You won't have to worry about lifting the cart to expel your load. The cart also features 13-inch pneumatic tires that will easily maneuver through any terrain regardless of the weight of your load. Whether your yard is small or consists of multiple acres, this garden cart will stand up to what you throw at it and has all the options to make your work a bit easier.
The Best Garden Cart for Heavy Loads
If you're looking for a heavy-duty garden cart that can carry a massive amount of weight, then this cart from Gorilla Carts might fit your needs with its ability to carry loads up to 1,400 pounds. The cart features the brand's 2-in-1 handle, giving you the ability to pull the cart by hand with the padded handle or easily convert it so you can pull the cart along with a garden tractor.
The durable 52-by-34-inch steel mesh bed has removable sides that are easily detached, converting the garden cart to a flatbed so you're able to haul oversized loads. The four oversized 15-inch pneumatic tires make maneuvering across any terrain easy, whether it's grass or dirt. You don't have to worry about getting bogged down hauling a heavy load with oversized tires.
Whether you're looking for a heavy-duty cart to use in your yard or you live on a farm and need to haul firewood or large tree branches, this steel utility cart is bound to stand up to what you throw at it without flinching.
The Best Collapsible Garden Cart
The MacSports collapsible utility wagon is a great choice for those who want a cart they can fold and store after use. There's no assembly required, and when unfolded, the cart offers a large carrying space that measures 32 inches long, 17 inches wide and 10 inches high on the interior. The metal frame carries loads up to 150 pounds and the fabric liner is UV- and mildew-resistant. You can even carry your drinks in the mesh cup holders attached to the front of the fabric liner so you can stay hydrated while working in the garden.
The wagon's adjustable handle allows the user to adjust it to a comfortable length for pulling it along. With four swivel wheels, the wagon is easy to maneuver through smooth or bumpy terrain, making it a good choice for urban gardens. Best of all, once you're done working in the garden, the wagon folds up to only 8 inches thick, meaning it won't take up much storage space. Although the cart won't handle extremely heavy loads, it's a good choice for hauling lighter garden tools, supplies and debris.
The Best Dumping Garden Cart
The GoDecor garden cart is the perfect choice for those wanting a lightweight cart that can haul heavier loads, has a dumping mechanism and won't break the bank. Its durable steel frame has a 42-by-21-inch rust-resistant polycarbonate bed attached, assuring years of use in the garden. When used strictly for hauling, the garden cart handles 570 pounds, and when used for dumping, the tilted bed withstands 220 pounds.
Your hands won't take a beating pulling the cart as the handle is padded. In addition, the garden cart is easy to maneuver over many different types of terrain with the four 10-inch pneumatic tires, making it a good choice for those with smaller gardens or those who live on several acres. Once you make it to your destination in the garden, you can simply remove the locking device holding the bed flat and tip it to release your load. With the cart's large bed size, ability to carry heavy loads, dumping feature and economical price, you're assured to get all your outdoor work done and keep a few bucks in your pocket.
The Best Compact Garden Cart
If you're looking for a budget-friendly garden cart that still can haul loads and is easy to maneuver, then the Marathon Yard Rover might fit your needs. This garden cart has the standard two-wheeled wheelbarrow design and the two 14.5-inch air-filled tires easily tackle any terrain, making it easy to handle. Between the loop handle and large tires, the garden cart is easy to balance, dump, push or pull, and maneuver where you want to go.
The heavy-duty large plastic bed is contoured for easy dumping and the interior measures 30 inches long, 24 inches wide and approximately 11 inches deep. It's attached to a metal frame and can accommodate up to 300 pounds. The garden cart is and sturdy enough to carry your gardening tools, supplies, mulch, rock or debris. When dumping a load, you simply tip it like you would a standard wheelbarrow. Additionally, you can easily store the garden cart by hanging it on your garage wall by the handle. This garden cart is economical and compact but still handles all the work in the garden.