​eHow may earn compensation through affiliate links in this article.​
Baked potatoes pair perfectly with just about any family meal, but can sometimes be a pain to cook. When baking potatoes in the oven, they need to be cooked for up to an hour. You can easily cook baked potatoes in the Instant Pot in 20 to 30 minutes depending on their size. They come out perfectly done and full of flavor every single time!
Things You'll Need
2 to 6 baking potatoes

1 cup of water

Instant Pot or other electric pressure cooker
Step 1
Use a fork or other sharp utensil to poke several holes all over each potato. This helps to steam the insides of the potatoes.
Step 2
Add the steaming basket into the Instant Pot. If your pressure cooker doesn't have a steaming basket, you can either skip this step or use a metal vegetable steamer.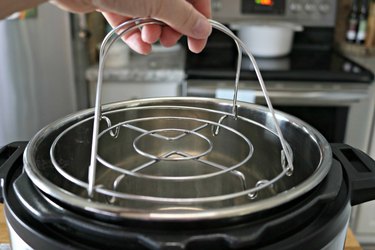 Step 3
Add 1 cup of water to the pot.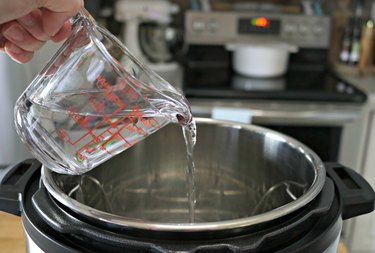 Step 4
Add 2 to 6 potatoes. Stack the potatoes in the Instant Pot and place the lid on, in the locked position. Set the vent to steam.
Step 5
Press the manual button, then set for desired cook time. For medium sized potatoes, cook for 20 minutes. For larger potatoes, cook for 30 minutes. Once you've set the timer, pressure will start to build pressure. Once the pressure has built up, the timer will count down.
Step 6
Once the timer counts down, let the IP release pressure naturally.
Step 7
Once pressure has released, remove the lid.
Warning
There will still be steam inside of the pot, so remove the lid away from your face. Remove the baked potatoes using a pair of tongs.
Cut open with a knife and add butter, sour cream, cheese or whatever toppings you like!