If you're determined to catch a leprechaun on St. Patty's Day, then you must think like a leprechaun. Everyone knows they keep a pot of gold hidden at the end of the rainbow. Entice them with edible versions of their favorite treasures -- rainbow clouds and golden nuggets -- mixed in with lots of green goodies for extra luck!
Watch the Video Tutorial
Things You'll Need
White chocolate chips, 2 cups, divided

Popcorn, 2 cups

Rainbow sprinkles, 1/2 cup

Corn Chex cereal, 2 cups

Gold sugar, 1/2 cup

Lucky Charms cereal, 1 cup

Lucky Charm green clover marshmallows, 1/2 cup

Mini pretzel sticks, 1/2 cup

Mint M&Ms, 1/2 cup
Tip
The green clover marshmallows come from the limited edition version of Lucky Charms cereal that is sold in stores around the time of St. Patrick's Day.
Make the Rainbow Clouds
In a microwave-safe bowl, microwave 1 cup of white chocolate chips in 30-second increments until melted, stirring in between each increment. 90 seconds is about all it takes. In a large mixing bowl, mix the popcorn and rainbow sprinkles, and then pour the white chocolate on top.
Mix it all together and then spread the mix on a parchment-lined baking sheet to cool. Break apart into cloud-like clusters when cool, after about an hour.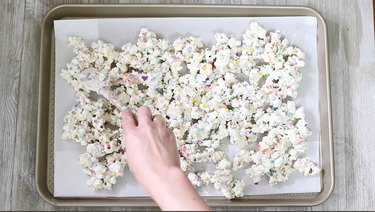 Make the Golden Nuggets
Melt another cup of white chocolate chips in the microwave, and then stir in the Corn Chex cereal. Pour gold sugar on top and mix until evenly coated.
Spread the mixture on a parchment-lined baking tray and sprinkle more gold sugar on top so that it's extra sparkly. Allow it to cool about an hour. Break it apart into little golden nuggets when cool.
Mix the Munch
Combine the Lucky Charms, green clover marshmallows, pretzels, rainbow clouds, golden nuggets and mint M&Ms in a large bowl and stir until mixed well.
Set the Bait
Scoop the leprechaun munch into an individual-sized serving container such as a cupcake liner -- gold, of course.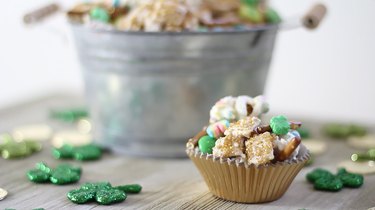 Keep your eyes peeled. Leprechauns are mischievous little fellows and will snatch up the sweet treats when you're not looking!
Share Those Shamrocks
Friends will be green with envy when they see you snacking on the leftovers, so do be a dear and share, lest you be pinched! Clear plastic bags tied with a shimmering shamrock on top make the cutest little giftables.