Full of juicy chicken and wholesome roasted vegetables, all swimming in a sweet and tangy sauce, this sheet pan dinner is about to become a new family favorite. The prep comes together in minutes, with only one pan to clean in the end. Just chop, roast and enjoy!
Things You'll Need
2 pounds golden potatoes

1 pound broccoli

1 1/2 pounds boneless, skinless chicken thighs

1 red onion

1/4 cup olive oil

1/3 cup honey

1/3 cup Dijon mustard

1 teaspoon salt

1 teaspoon garlic powder

1/2 teaspoon pepper
Tip
Frozen broccoli can be a time saver. Just use a bag of frozen florets in place of fresh broccoli. No need to thaw, just put the frozen broccoli pieces right on the pan and let the oven do its work.
Step 1: Chop the Vegetables
Chop the potatoes into 1-inch pieces. This is important because if they're too big, they won't be finished cooking with the rest of the dish.
Slice your broccoli into small florets and slice the onion into thin slivers.
Tip
Yellow or red potatoes work perfectly because you don't need to peel their tender skins.
Step 2: Place Vegetables on a Pan
Arrange all of the vegetables on your sheet pan.
Step 3: Prepare the Honey Mustard Sauce
Combine the olive oil, honey, mustard and spices into a bowl, stirring until incorporated.
Step 4: Add Chicken
Place the chicken thighs on the pan with your vegetables and pour honey mustard sauce over everything. Use your hands to coat each piece before spreading into an even layer.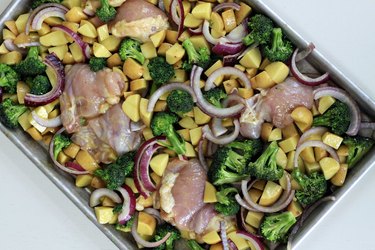 Step 5: Roast
Put the whole pan in the oven for 30 minutes at 400 degrees Fahrenheit. When it's done, you have the option to add extra caramelization. Just move the pan under the broiler and turn it on high for 2 to 3 minutes. Serve immediately, being sure to scoop up the extra sauce, ladling it on to every portion.