This is deceptive. It sounds so fancy, so difficult, so French! But really, it's simple. You whisk some things, you bake, you chill it and then you top it with some sugar. Easy peasy. Then comes the fun part: you get to break out the kitchen torch. Or you get to have a really great reason to buy one. You just sprinkle it with some sugar in an even layer, and run that little flame over the top until the sugar melts and turns into a nice little amber pool that will cool into a glass-like top of sugar deliciousness. Then you get to take your spoon and stab it until it breaks. Is there a better way to end a dinner party? We think not.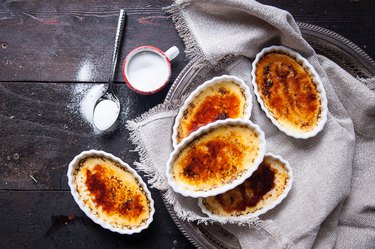 Things You'll Need
3 cups heavy cream

1 vanilla bean pod

1/3 cup granulated sugar, plus 1/4 cup sugar for the topping

4 large egg yolks

Boiling water

4 to 6 ramekins

High-sided baking dish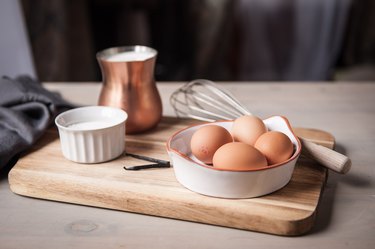 Step 1: Split the Bean
Split the vanilla bean pod lengthwise with a sharp knife, and scrape the filling out with the back of the knife.
Step 2: Simmer
Add the cream, vanilla pod, and inside scrapings to a pot over medium heat. Once the cream starts to bubble around the edges, remove from heat. Cool for ten minutes.
Step 3: Whisk
Whisk the eggs and sugar together in a medium bowl until light in color. Slowly add the cream while whisking continuously until well combined.
Step 4: Bake
Add the custard to ramekins (4 to 6 total) until 3/4 of the way full, add to a baking dish with high sides. Pour boiling water around the ramekins until halfway up the sides. Bake at 300 degrees Fahrenheit for 45 to 50 minutes, or until the custard is still slightly wobbly in the center but not sloshy.
Step 5: Chill
Gently remove from the baking dish, add to a platter and place in the fridge until chilled, about 3 hours.
Step 6: Top with Sugar
Add a thin layer of the remaining sugar to the top of the chilled custards.
Step 7: Brûlée
Using a kitchen torch, slowly pass the flame over the sugar until it's melted into an amber pool. Allow to cool. Serve within an hour.