The kitchen is called the heart of the home for good reason -- it's definitely where my family and I spend most of our time. Even if you're not much of a cook, chances are good that your kitchen is where you like to hang out too. It's a natural gathering spot and no matter what size or shape, people often congregate there.
If you're embarking on a kitchen remodel or just dreaming about one, there are several things to keep in mind as you spend hours scrolling through Pinterest. As an interior designer I've done lots of kitchen remodels and although style preferences may change throughout the years, these 10 additions are timeless.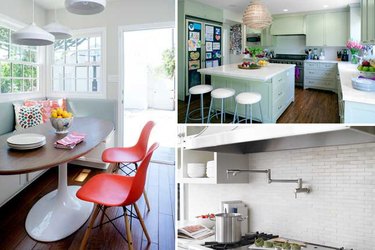 Add an Island
If space isn't an issue, I always try to work an island into my kitchen projects. Their uses are endless: additional prep space, impromptu work station for kids, casual eating spot, added storage and buffet for parties.
Pot Filler
Avoid lugging heavy pots of water to and from your sink by putting a pot filler faucet behind your range.
Built-in Banquette
Breakfast nooks and built-in banquettes are very popular these days and for good reason - they maximize underutilized real estate and double as extra storage under the cushions.
Prep Sink in Island
An extra sink in an island with a garbage disposal is perfect when there are multiple people working in the kitchen at the same time.
Glass Door Cabinetry
Glass front cabinets create a bright, open feeling. Intersperse them with solid-door cabinetry for the perfect mix of display and hidden storage.
Personalize
Of course function is foremost in a kitchen but there are many ways to put your personal stamp on the space like choosing a backsplash with personality or painting the insides of your cabinets or windows.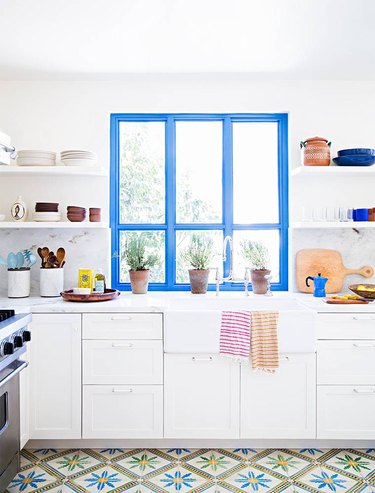 Lighting
Make sure you have plenty of functional recessed lighting to illuminate your work space, but incorporate decorative fixtures over an island or dining area for ambiance.
Pets
This is more of a luxury item, but if you have pets and are able to incorporate them into your kitchen design by all means think about them as you plan. Corral pet food and water bowls in a custom cabinet, and convert a pullout drawer into a food storage bin.
Lots of Clever Storage
You can never have too much storage in a kitchen. Look for ways to maximize your space by thinking outside the box - add vertical separators to a cabinet above ovens so platters and trays can easily fit in side by side instead of on top of each other. If you are a baker see if you can store your stand-up mixer and/or Cuisinart on a pull up shelf that stores in a cabinet so you don't have to lug them out. And if you are building a banquette, by all means use the "free" storage space beneath.
Open Shelving
Adding open shelving is a great way to keep a kitchen feeling light and bright without the bulk of cabinets. I like to incorporate open shelves above a stove or near the main sink. Note: They can collect dust and you can't hide unsightly dishes and mess so they aren't for everybody.