When it comes to holiday baking, you have enough to worry about. You have grocery store shopping to do, dishes to cook, relatives to keep separated, and even food allergies to accommodate. This pie makes things a little simpler. With a crust made of a familiar favorite cereal, it won't feel "gluten-free," it will feel deliciously nostalgic. It just so happens that everyone at the table can eat and enjoy it, and it also just so happens that you can and should make it in advance. Making your holiday baking just a little less complicated.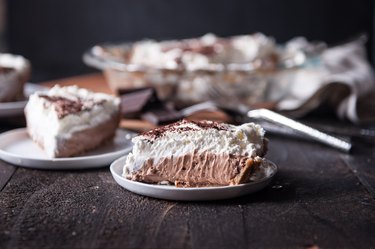 Tip
This pie is best the day after making when the flavors can meld and mellow and the pie has time to set. Don't be afraid to make it ahead of time!
Things You'll Need
3 cups Cherrios cereal

1/4 cup brown sugar, packed

1/3 cup melted butter

4 large eggs

1 cup granulated sugar

1 teaspoon vanilla extract


1/2 teaspoon salt

4 ounces bittersweet chocolate (62% cacao)

1 cup unsalted butter


1 1/2 cups heavy cream

1/4 cup powdered sugar

2 cups whipped cream (try this homemade recipe)


Chocolate curls or shavings for garnish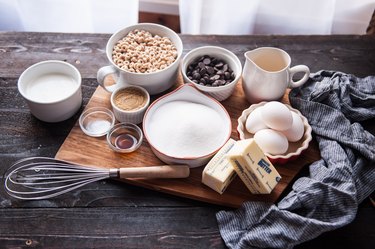 Step 1: Grind the cereal.
Add the Cheerios and brown sugar to a food processor. Process until just crumbs remain.
Step 2: Add the butter.
While the food processor is running, slowly add in the butter until all the crumbs have been moistened.
Step 3: Bake.
Add the crumbs to a 9-inch pie pan, pressing firmly into the bottom and sides with a flat-bottomed measuring cup or heavy mug. Bake at 350 degrees Fahrenheit for 8 to 10 minutes. Allow to cool completely.
Step 4: Heat the eggs and sugar.
In the top of a double boiler set over gently simmering water, whisk together the eggs, sugar, vanilla and salt. Whisk continuously until the mixture is heated and thickens slightly, about 6 minutes.
Step 5: Stir in the chocolate.
Remove from heat and stir in the chocolate until well combined and melted. Allow to cool to about room temperate.
Step 6: Whip the butter.
Add the butter to a bowl, beat on high with a hand mixer until light and fluffy.
Step 7: Combine the butter and chocolate.
Slowly pour the chocolate mixture into the butter mixture, mixing until well combined.
Step 8: Whip the cream.
Add the heavy cream and powdered sugar to a bowl, beat with a hand mixer until medium peaks form.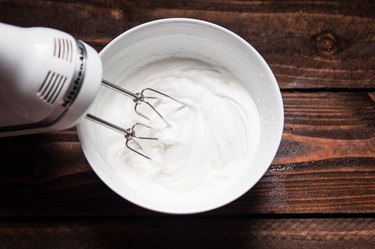 Step 9: Combine and chill.
Fold the chocolate mixture into the cream mixture, pour into the filling. Top with whipped cream and chocolate shavings. Chill until set, about 4 hours.