Crisp fall mornings call for special breakfasts, but who has time for a big production? It only takes about 30 minutes to make these pumpkin spice latte muffins, start to delicious finish.
Things You'll Need
1/2 cup rolled oats (not instant)

1/2 cup flour

1/2 cup brown sugar, packed

1/2 cup roasted pumpkin seeds

1/4 cup butter, softened


2 2/3 cup all-purpose flour

3 tablespoons espresso powder

2 teaspoons baking soda

1 teaspoon salt

1 can of pumpkin pie filling, 15 oz.

1/4 cup sugar

1 cup brown sugar, packed

1 cup vegetable oil

4 large eggs

1 cup white chocolate chips

Cupcake liners

Muffin pan
Preheat the oven to 350 degrees F. Place paper liners in muffin pan. Set aside.
In a small bowl, combine the rolled oats, 1/2 cup of flour, 1/2 cup of brown sugar, roasted pumpkin seeds, and softened butter. Combine thoroughly and set aside (to use as the streusel topping later).
Sift together 2 2/3 cups of flour, 3 tablespoons of espresso powder, 2 teaspoons of baking soda and 1 teaspoon of salt.
Combine pumpkin pie filling, 1/4 cup of sugar, 1 cup of brown sugar, and 1 cup of vegetable oil. Lightly beat 4 large eggs. Add to mixture and mix well.
Make a small well in the dry ingredients. Add the wet ingredients and stir to moisten.
Add 1 cup of white chocolate chips and stir until thoroughly combined.
Spoon batter into prepared muffin tin, filling each liner about 2/3 full. Top each muffin with streusel.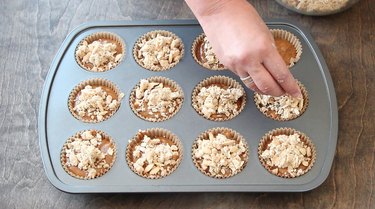 Bake for 18 to 20 minutes. Serve warm.