When you need something special for breakfast but don't have a lot of time, try this monkey bread. It's delicious and can be ready in less than 30 minutes, start to finish.
Things You'll Need
Bundt pan (mini or standard size)


Baking spray

1 package King's Hawaiian Rolls

4 eggs

1/2 cup milk

1/2 teaspoon cinnamon

1/2 stick butter

3/4 cup brown sugar

2 Tablespoons milk or cream
Step 1: Prepare the Pan
Preheat the oven to 375 degrees Fahrenheit. Thoroughly spray the Bundt pan with baking spray, covering the sides and center tube all the way to the top.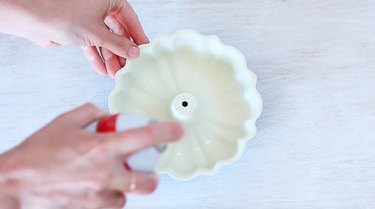 Tip
It takes about a dozen rolls to fill a mini-Bundt pan like the one shown here. If you're feeding a crowd, use a full-sized Bundt pan and two packages of rolls.
Step 2: Soak the Rolls
Whisk together 4 eggs, ½ cup milk and ½ teaspoon cinnamon until combined thoroughly. Tear off the top crust of a roll and break it in half. Dip rolls in egg mixture, then roll into rough balls and place in Bundt pan. Continue adding layers of rolls until Bundt pan is filled.
Tip
Add chopped pecans, raisins, or dried cherries between layers, if desired.
Step 3: Add the Caramel Sauce
Melt half a stick of butter in a small saucepan over medium heat. Add ¾ cup brown sugar and 2 Tablespoons milk or cream. Cook until the sugar is dissolved and the sauce is smooth, stirring frequently. Pour sauce over the rolls, filling all the crevices.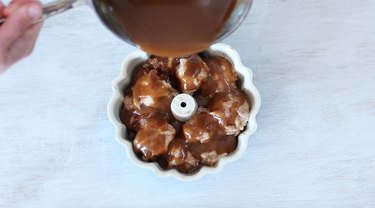 Step 4: Bake and Serve
Bake at 350 degrees Fahrenheit for 20 minutes. The monkey bread is ready when the caramel sauce is bubbling and the crusts of the rolls are golden brown.
Let the monkey bread rest for 5 minutes, then use a knife to loosen the outside and inside edges. Place a plate over the Bundt pan, then invert the plate and pan. The monkey bread should slide right out.