There's no denying that fall is one of the best times of the year for many sports fans. Whether you're geared up for football, patiently waiting for the next NBA season, or even preparing for the impending MLB playoffs, you'll definitely be craving some munchies during those nail-biting moments of the game. Be ready to cheer on your favorite teams with these delicious recipes you can enjoy during any sports gathering.
Pregame Show: Jalapeño Popper Beer Cheese Dip
Open your tailgate or at-home viewing party with this jalapeño popper beer cheese dip. The combination of panko breadcrumbs, cream cheese, spicy jalapeños and a hoppy IPA give your gathering what it needs to enjoy any game from the sidelines.
Game Day Grilling: Honey Stout Chicken Wings
Wings and sports go hand-and-hand, so there's no question these honey stout chicken wings would be a great addition to any game-day menu. Serve with a stout to knock your taste buds out of the park.
Kickoff Classic: Gourmet Slider Bar Snack Stadium
Serve a gourmet slider bar in an epic "snackadium" form. Your guests will be amazed by all the edible details such as "foam fingers" made from cheddar and pickle "players" with cheese helmets. Up the wow factor with LED lights and sparklers for a truly spectacular display.
Starting Line-Up: Chipotle Stout Chili Dogs
If you're looking for an all-star meal, serve up some chipotle stout chili dogs as a main course. The chili incorporates fiery chipotle peppers and mildly sweet stout beer, giving you a smoky, savory dog that packs a flavorful punch!
The Backup Quarterback: Charred Corn With Chicken and Cheese Salad
For a more lightweight food option, this charred corn with chicken and cheese salad is a great contender. The grilled corn kernels paired with succulent chicken and tangy lime juice makes this a terrific option for the health-conscious sports fan.
On the Sidelines: Twice-Baked Beer Cheese Potatoes
These twice-baked beer cheese potatoes are a twist on classic potato skins and make a for a hearty side dish. Tender, baked potatoes topped with a creamy beer cheese sauce and crispy bacon earn these appetizers a perfect 10/10 in our scorebook!
Triple Threat: Slow Cooker Chipotle Beer Chicken Sliders
Handheld delights are always a game day favorite when your other hand is holding a beer, on the remote or inside a foam finger. This sliders recipe features tender pulled chicken infused with beer and chipotle peppers, and is slow-cooked to perfection. It's a fan favorite at any sports gathering.
For Chilly Game Days: Chorizo, Hatch Chile and Smoked Porter Chili
Fall doesn't just mean football season: It's also a great time for a warm bowl of hearty food. Whether your team wins or loses, this chili dish will be there to comfort you.
For the Classy Tailgate: Lobster Sliders on Brioche Rolls
If you're looking for something light and zesty to enjoy while rooting for your team, these lobster sliders will do the trick. The succulent lobster meat is tossed in a light and creamy salad mix, and topped with celery for a light crunch.
Fourth Quarter Contenders: Mason Jar Football Brownie Treats
Before the game clock runs out, serve up some festive, decadent mason jar football brownie treats. To save some prep time, you can easily prepare these dessert jars the night before so they're ready in time for kickoff.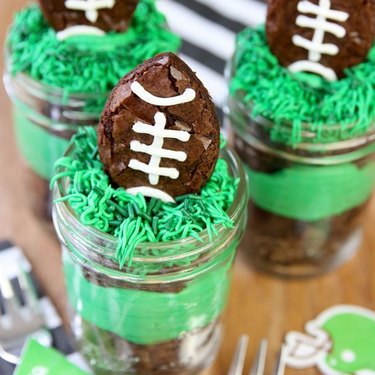 Game-Day Refreshments: Watermelon Mint Beer Coolers
Cool down during the game with a refreshing watermelon mint beer cocktail. Blend together all ingredients including watermelon, mint and your choice of IPA for a crisp and boozy drink.