Extremely moist, flavorful, and richly spiced, homemade pumpkin cake with cream cheese frosting can be made in just a few simple steps. While we've prepared this as a single layer cake, the recipe can easily be doubled to create a layer cake version.
Things You'll Need
3 large eggs, at room temperature

1/2 cup granulated sugar

1/2 cup dark brown sugar, packed


1/4 cup canola, vegetable, or coconut oil (I used melted coconut oil because I love the slight flavor it adds to the overall cake)

1/4 cup unsalted butter, melted


1 cup pumpkin puree (not pumpkin pie filling)

1/3 cup whole milk

1 teaspoon pure vanilla extract

2 teaspoons ground cinnamon

1 and 1/2 teaspoons pumpkin pie spice

1/2 teaspoon ground cloves

1/2 teaspoon all-spice

1/2 teaspoon ground nutmeg

1 1/4 cups all-purpose flour

1 teaspoon baking powder

1/2 teaspoon baking soda

1/4 teaspoon salt

1/2 cup raisins

1/2 cup diced nuts


8 oz full-fat cream cheese, very soft

1/4 cup unsalted butter, very soft

2 teaspoons vanilla extract

2 cups confectioners' sugar, sifted

1 to 2 tablespoons heavy cream

Step 1
Preheat oven to 350 degrees F. Generously grease a 9-inch springform pan; set aside. In a large bowl combine the eggs, sugars, oil, butter, pumpkin, milk, vanilla, and spices; beat well to combine. Add in the flour, baking powder, baking soda, and salt; stir until just combined. Fold in the raisins, and nuts, gently stirring together until incorporated.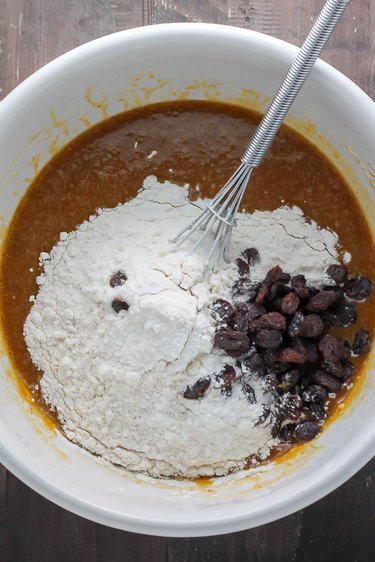 Step 2
Pour the batter into the prepared pan and smooth the top with a spatula. Bake cake for 42 to 45 minutes, or until the top is golden brown and a toothpick inserted in the center of the cake comes out clean (or with just a few moist crumbs attached). Allow the cake to cool for 20 minutes in the pan, then transfer it to a wire rack to cool completely.
Step 3
While the cake is cooling, make your cream cheese frosting. For complete instructions (it's super easy!) use our favorite frosting recipe found in our Homemade Carrot Cake tutorial.
Once your cake is completely cooled, generously spread the frosting over the cake. Feel free to top with chopped nuts for extra flavor and texture. Enjoy!